7

.

Evaluating Multiband Reflectance Image Subtraction for the Characterization of Indigo in Romano-Egyptian Funerary Portraits
The Brooklyn Museum (BKM) began acquiring Egyptian antiquities in 1902 and now boasts one of the largest holdings of Egyptian materials in the United States. This renowned collection contains six Romano-Egyptian funerary portraits on panelCitation: Panel. Painting support made from various woods, including lime, sycomore fig, and cedar of Lebanon, among others. The shape of the upper portion of mummy portrait panels may indicate the cemetery in which the mummy was buried: stepped panels are associated with Antinoöpolis, round-topped panels with Hawara, and angled panels with er-Rubayat.: Portrait of Demetrios (11.600, AD 95–100), Woman with Earrings (1996.146.9, AD 100–105), Mummy Portrait of a Man (ca. AD 120–130), Noblewoman (ca. AD 150), Boy with a Floral Garland in His Hair (ca. AD 200–230), and Portrait of a Young Person (ca. AD 200–230). Two of these portraits are characterized as temperaCitation: Tempera. In the context of ancient art, this term generally refers to a fast-drying, water-miscible painting medium such as animal glue or plant gum. The term tempera originates from the Latin temperare ("combining, blending"). paintings with aqueous binding mediaCitation: Binding media. Organic materials that hold pigments together, enabling them to be applied as a cohesive film. Ancient binding media are based on natural materials, including wax, plant gums, and proteins, such as animal glues. The physical properties of the medium strongly influence the handling and visual characteristics of the paint. and four as encausticCitation: Encaustic. A wax-based painting technique. From the Greek word enkaustikos ("burned in"), the term in its most literal sense refers to the use of molten beeswax combined with pigments; once solidified, the paint can be further manipulated by the use of heated tools. The term is often used in a more general sense to describe any painting technique in which wax is the major component of the medium. paintings with wax binding media. Aside from the Noblewoman portrait (fig. 7.1), which has been extensively restored, the portraits survive in remarkably good condition. All six portraits were documented and analyzed through visual examination, reflectance transformation imaging (RTI)Citation: Reflectance transformation imaging (RTI). A computational imaging technique that reveals surface topography, details, and textures, thus enabling the study of tool and brush marks, etc. RTI produces a polynomial texture map, or pseudo-three-dimensional image, of an object or surface. The light source is positioned at a constant radius from the subject at different angles (i.e., raking light) to create a hemisphere of positions and the image captures acquired from a fixed camera position during each light movement. The final processed file determines all possible light positions within the virtual hemisphere., X-radiographyCitation: X-radiography. An imaging technique used to reveal the internal structure of an object by using X-rays to record variations in the densities of its constituent materials. X-rays are transmitted, absorbed, or scattered in varying degrees by the materials present; the radiation that passes through the object is then captured on photographic film or a digital receptor placed behind the subject, thereby creating the radiograph. Dense materials and/or those containing elements of high atomic number, such as metal and lead white paint, strongly absorb X-rays and will appear white or light in tone; less dense materials, such as wood or other organic matter, readily transmit radiation and appear dark in the resulting image., infrared reflectography (IRR)Citation: Infrared reflectography (IRR). An imaging technique in which an object is irradiated with short-wave infrared radiation (SWIR; 1000–3000 nm). A specialized infrared-sensitive digital camera detects and captures the contrast between materials that reflect the infrared, such as lead white, and those that absorb it, such as carbon-containing pigments. Because infrared is of longer wavelength than visible light, some low-absorbing materials may also allow the infrared to be transmitted through them, revealing hidden underdrawings, artist's modifications and methodology, or modern interventions., X-ray fluorescence spectroscopy (XRF)Citation: X-ray fluorescence (XRF) spectroscopy. A technique used for nondestructive elemental analyses of inorganic materials, utilizing a focused beam of X-rays to excite the atoms on the surface of an artwork and measuring the emitted energy. These emissions provide characteristic fingerprints of the elements in the sampled area, allowing researchers to formulate hypotheses about the compounds contained therein., fiber optics reflectance spectroscopy (FORS)Citation: Fiber optics reflectance spectroscopy (FORS). An analytical technique for identifying pigments and dyestuffs. This technique uses two fiber optics: one to expose the sample to light and the other to collect a diagnostic reflectance spectrum., Raman spectroscopyCitation: Raman spectroscopy. An analytical technique used to observe the vibrational, rotational, and other low-frequency molecular modes of a material. When excited by monochromatic light (visible, near infrared, or near ultraviolet) from a laser beam, the collected inelastic scattered light collected with a spectrometer produces spectra that are specific to the chemical bonds and symmetry of specific molecules. Comparing reference spectral databases allows for the identification of materials., and multiband imaging (MBI)Citation: Multispectral imaging (MSI) / multiband imaging (MBI). The creation of a series of images, each recording reflectance and luminescence within a different limited range of wavelengths. This process involves using a series of band-pass camera filters or a set of narrow-band illumination sources; thus, it records variations in the absorption of materials at different wavelengths. Comparing or combining these images can help to characterize materials or to distinguish between materials that may appear similar..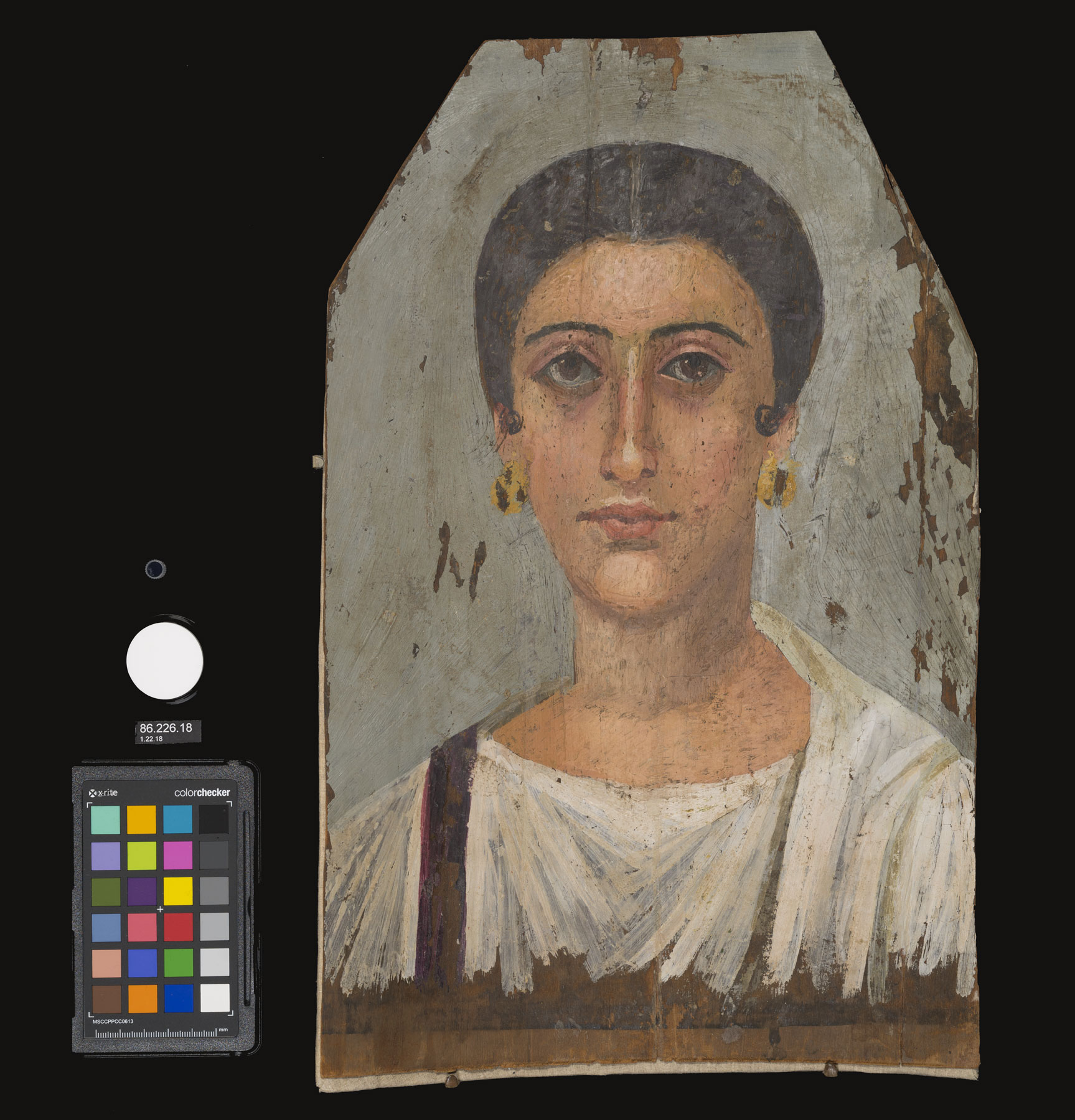 This paper focuses on multiband reflectance image subtraction (MBR)Citation: Multiband reflectance subtraction imaging (MBR). A digital post-processing technique that subtracts a near-infrared image from a visible light image, thus enabling the characterization of certain materials, specifically indigo. for the characterization of indigoCitation: Indigo. A natural blue dye derived from the plant Indigofera tinctoria and related species growing in the Mediterranean, India, and Asia, among other locations. It is believed that originally the dye woad (Isatis tinctoria), rather than indigo, was used in antiquity. Chemical formula: C16H10N2O2. As few references to this technique exist in the literature, BKM conservators not only evaluated the information gained from its application to the study of Romano-Egyptian funerary portraits but also investigated the technique itself, refining variables in image capture and processing to optimize results. Protocols were developed for equipment setup and image capture using reflectance standards, color standards, and material samples as internal references. Spectral curves collected using FORS elucidated why materials other than indigo may be visualized in processed subtraction images. Selected data obtained from MBI, FORS, and Raman spectroscopy are discussed in this paper, along with relevant XRF results.
Indigo was detected exclusively in mixtures with a red lakeCitation: Lake. A pigment manufactured by precipitating a dye onto an inorganic substrate/mordant (such as the metallic ions aluminum or calcium). pigmentCitation: Pigment. A colorant either derived from natural sources—mineral, plant, or insect—or produced synthetically. Typically, pigments are crushed into a fine powder and mixed with a binder, resulting in a suspension that becomes insoluble when dry; a dye produces a lake pigment when attached to an inorganic substrate or mordant. on three of the encaustic portraits; indigo, both in mixtures and alone, was found more widely on the two tempera portraits. Indigo was not found on the sixth portrait, also encaustic.
The use of indigo or woad on Egyptian textiles dates back to as early as the sixteenth century BC.1 Woad (Isatis tinctoria) was more commonly used as a dye; indigo (Indigofera tinctoria), likely imported from India starting in the Ptolemaic era,2 was more commonly employed as a pigment.3 The term indigo is used throughout this paper to encompass indigotin-based colorants irrespective of plant source.
Pioneered by Webb and colleagues,4 the MBR technique described in this essay combines one near-infrared image and one visible light image in digital post-processing. This noninvasive and nondestructive technique can visualize and localize materials, including indigo, producing a surface map.
To evaluate our modifications to and application of the imaging technique, analyses were carried out using a visible–near infrared fiber optics reflectance spectrometer and a handheld Raman spectrometer. In addition, samples were taken for analysis using a benchtop Raman instrument.
Paint-out boards created using historically consistent materials were imaged and analyzed with FORS, serving as simplified analogues of the portraits and providing references for known materials in mixtures with indigo.
Multiband Imaging (MBI)
MBI image suites—including visible, ultraviolet-induced visible fluorescence (UVF)Citation: Ultraviolet-induced visible fluorescence (UVF) / UV-visible fluorescence / Ultraviolet-induced visible luminescence (UVL) (historically UV/VisFL). An imaging technique and diagnostic examination method, based on characteristic responses of materials to ultraviolet (UV) radiation (185–400 nm) in the form of fluorescence, in which radiant energy in the UV region is absorbed and then reemitted as lower-energy visible light. The fluorescences revealed by the technique are used to assist in the general characterization or differentiation of materials—such as pigments, coatings, binders, and adhesives—and to diagnose the condition of an object (e.g., to detect restorations). The term luminescence also encompasses the possibility of a phosphorescent response to UV radiation in which there is a delay in the reemission of the absorbed energy by some materials, so that emission might even continue for a period after the UV excitation source is turned off. Because fluorescence is by far the dominant phenomenon being observed and documented, the term fluorescence has historically been used in describing this technique in conservation (as well as in medicine, nondestructive testing, and forensics); however, luminescence is an equally appropriate descriptor., ultraviolet reflectance (UVR)Citation: Ultraviolet reflectance or ultraviolet reflected (UVR) imaging / reflected ultraviolet (RUV) imaging. An imaging technique that records variations in reflection and absorption of ultraviolet (UV) radiation by the surface of a subject. This imaging technique primarily aids in the characterization or differentiation of materials. Also because UV radiation exhibits very limited surface penetration, the technique can also help in characterizing surface sheen., IRR, and visible-induced infrared luminescence (VIL)Citation: Visible-induced infrared luminescence / visible-induced luminescence (VIL). An imaging technique in which visible light is used to induce the emission of infrared radiation (primarily in the near-infrared [NIR] region [700–1100 nm]) by certain materials. It has been used to identify historical blue pigments (principally Egyptian blue, Han blue, and Han purple) as well as many cadmium pigments and some natural dyes. These materials may show a very strong IR emission when excited by visible light. The setup for this type of imaging requires an excitation source emitting only visible light with no IR component, an imager with sensitivity to NIR (such as an IR-modified digital camera), and a lens filter that absorbs all visible light and transmits NIR. images—of each portrait and paint-out board were captured using a modified Nikon D610 DSLR camera with the UV/IR filters removed and a Jenoptik 60 millimeter UV-VIS-IR APO Macro lens (see fig. 7.2 for lighting and filter specifications). False-color ultraviolet reflectance (FCUV)Citation: False-color ultraviolet (FCUV) / ultraviolet-reflected false color (UVRFC). Images created through digital post-processing by combining visible and ultraviolet reflectance (UVR) images. The false colors produced can help in characterizing materials or in distinguishing between visually similar substances. and false-color infrared reflectance (FCIR)Citation: False-color infrared (FCIR) / infrared-reflected false color (IRRFC). Images created through digital post-processing by combining visible and near-infrared images. The false colors produced can help in characterizing materials or in distinguishing between visually similar substances. images were generated by combining reflectance captures via channel substitution in Adobe Photoshop.5 A Spectralon 99 percent reflectance standard from Labsphere,6 an X-Rite ColorChecker Passport, and an unbound indigo pigment sample7 were included in all captures (see fig. 7.1). An unbound Egyptian blueCitation: Egyptian blue (cuprorivaite). A pigment that was manufactured and used by Egyptians possibly as early as 3100 BC. Considered to be the first synthetic pigment, Egyptian blue was made by mixing a calcium and copper compound with silica/quartz and a flux, heating the mixture to a very high temperature (900°C), and then grinding the glassy product to a powder. Chemical formula: Calcium copper silicate, CaCuSi4O10 or CaOCuO(SiO2)4 pigment sample was included in all VIL captures. MBI suites of the paint-out boards included dry samples of the binding media and pigments used on each board (fig. 7.3).
Figure 7.2 Camera, Filter, and Illumination Sources Used for MBI Imaging
Light Source
MBI Type
Filters

Genaray Spectro LED-14 Lights (Output: 5600K)

Visible (VIS)

IDAS-UIBAR filter (375–700 nm bandpass)

UV Systems LW370 TripleBright II Lights (Output: 368 nm, 5750K)

Ultraviolet-induced visible fluorescence (UVF)

IDAS-UIBAR filter

Kodak 2E pale yellow optical Wratten filter (410 nm longpass)

Ultraviolet reflectance (UVR)

X-Nite BP1 filter (320–670 nm bandpass)

X-Nite 330 filter (270–375 nm bandpass)

Solux Halogen MR-16 Lights (Output: 4700K)

Infrared reflectance (IRR)

X-Nite 830 filter (830 nm longpass)

Captures taken to be processed for multiband reflectance image subtraction (MBR)

MidOpt BP660 filter (640–680 nm bandpass)

MidOpt BP735 filter (715–780 nm bandpass)

American DJ RGB LED Lights, Model 64B LED PRO, Red Bulbs CL1 (Output: 629 nm)

Visible-induced infrared luminescence (VIL)

X-Nite 830 filter (830 nm longpass)
All captures taken using a UV-VIS-IR modified Nikon D610 DSLR camera with a Jenoptik 60mm APO Macro lens
Figure 7.2 Camera, Filter, and Illumination Sources Used for MBI Imaging
Light Source
MBI Type
Filters

Genaray Spectro LED-14 Lights (Output: 5600K)

Visible (VIS)

IDAS-UIBAR filter (375–700 nm bandpass)

UV Systems LW370 TripleBright II Lights (Output: 368 nm, 5750K)

Ultraviolet-induced visible fluorescence (UVF)

IDAS-UIBAR filter

Kodak 2E pale yellow optical Wratten filter (410 nm longpass)

Ultraviolet reflectance (UVR)

X-Nite BP1 filter (320–670 nm bandpass)

X-Nite 330 filter (270–375 nm bandpass)

Solux Halogen MR-16 Lights (Output: 4700K)

Infrared reflectance (IRR)

X-Nite 830 filter (830 nm longpass)

Captures taken to be processed for multiband reflectance image subtraction (MBR)

MidOpt BP660 filter (640–680 nm bandpass)

MidOpt BP735 filter (715–780 nm bandpass)

American DJ RGB LED Lights, Model 64B LED PRO, Red Bulbs CL1 (Output: 629 nm)

Visible-induced infrared luminescence (VIL)

X-Nite 830 filter (830 nm longpass)
All captures taken using a UV-VIS-IR modified Nikon D610 DSLR camera with a Jenoptik 60mm APO Macro lens
Expand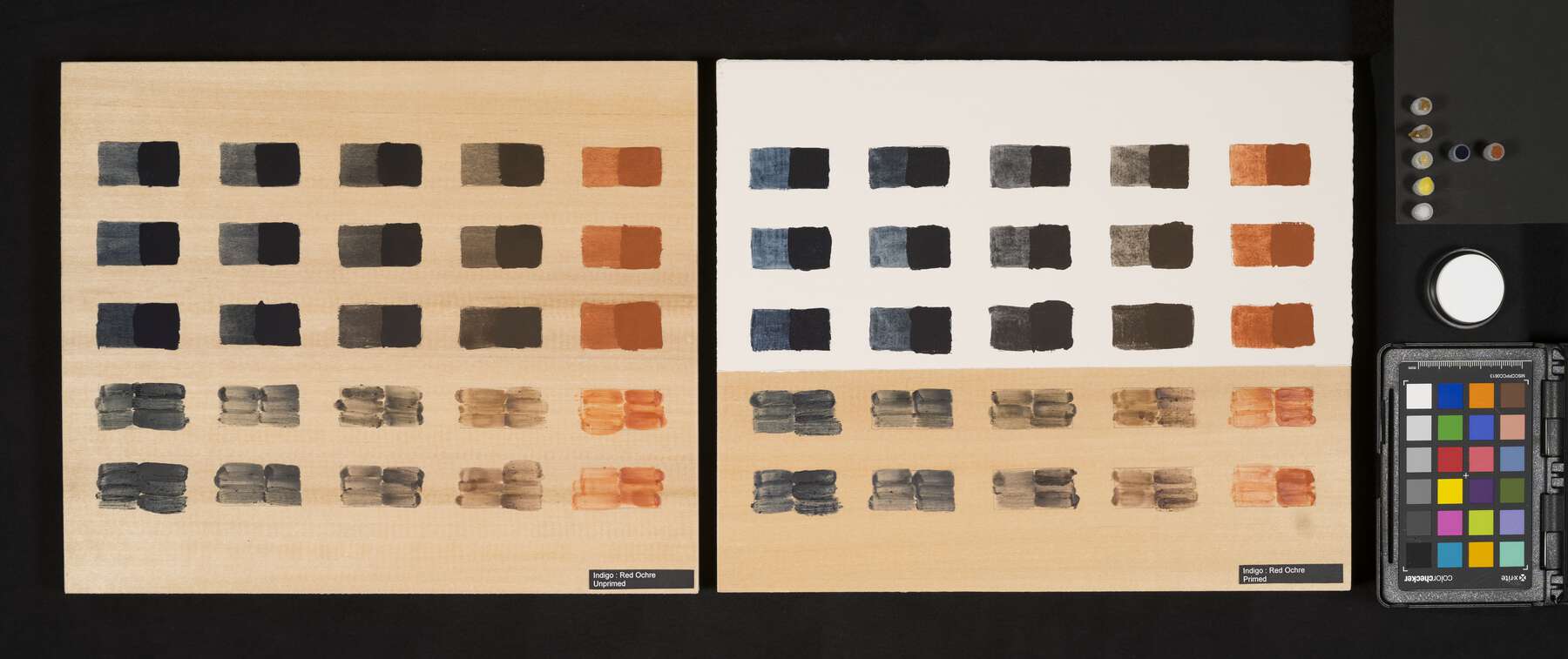 Multiband Reflectance Image Subtraction (MBR)
MBR to localize indigo was performed by illuminating the field with Solux MR-16 halogen bulbs, 4700 Kelvin output, and taking two captures: one with a MidOpt BP660 bandpass filter and one with a MidOpt BP735 bandpass filter. Captures were converted to grayscale in Adobe Photoshop's Camera Raw utility by setting the saturation to -100, and saved as TIFFs.8 The desaturated TIFF images were then combined using the "Difference" Blend Mode in Photoshop to generate a subtraction image. Processing could alternatively be carried out using free and open-source software such as ImageJ and GIMP.
The "Difference" function takes the absolute value of the difference between two source images, pixel by pixel, to generate a new image. Corresponding source-image pixels with similar RGB values yield small numerical differences, while the combination of pixels with dissimilar RGB values creates large numerical differences. Differences of zero in each color channel result in a black pixel, while differences of increasing magnitude generate pixels approaching white as the values approach 255 in each channel. Materials with little change in reflectance across the spectral regions encompassed by the BP660 and BP735 filters result in small numerical differences and appear dark in the MBR image.
Characteristic reflectance spectra for indigo display strong absorbance around 660 nanometers and strong reflectance just under 800 nanometers. The pairing of narrow bandpass filters centered at 660 nanometers and 735 nanometers exploits the pronounced difference in indigo's reflectance in the visible and near infrared (fig. 7.4).9 Indigo in various forms, including Maya blue, yields large numerical differences and appears bright in MBR images generated from captures made using these filters. Imaging performed at BKM indicates that other blue materials including lapis lazuli and ultramarine; cobalt-containing blues, such as cobalt blue, smalt, and cerulean blue; and, to a lesser extent, Egyptian blue, can also produce brightness in these images due to their reflectance behaviors.10 MBR as a characterization technique is strengthened in combination with knowledge of an object's historical context and through corroboration by other imaging and analytical methods.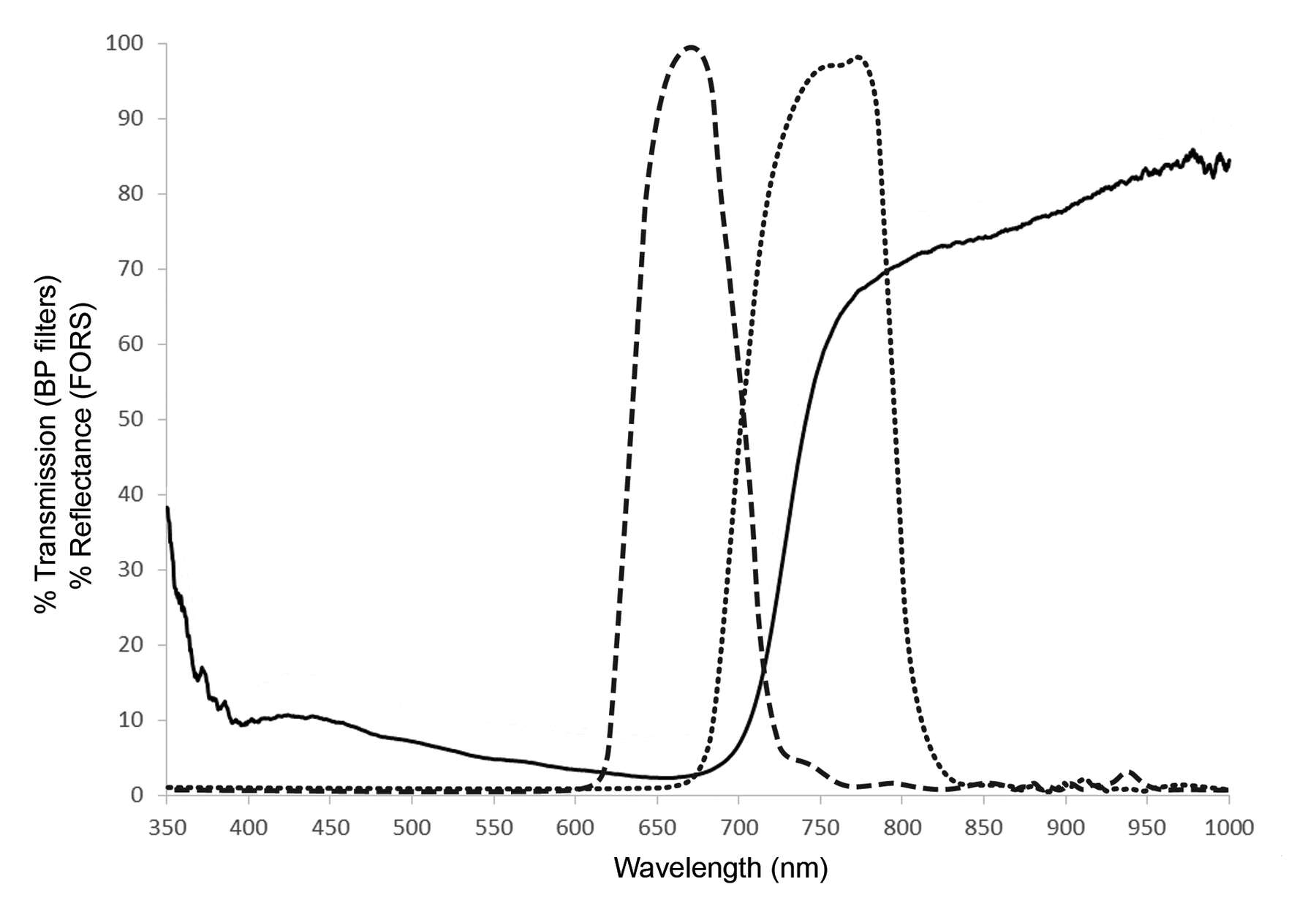 To achieve reliable and consistent MBR results, the measured exposure of the BP660 capture should be as close as possible to that of the BP735 capture without exceeding it.11 Because the two bandpass filters pass different amounts of light, the BP660 capture typically requires a longer exposure time than that of the BP735 capture to result in a pair of images in which the BP660 capture is as close as possible to but still darker than the BP735 capture. Ensuring that the exposure gap between the two captures is as narrow as possible maximizes the specificity of the MBR technique, highlighting those materials with the largest differences in reflectance in this spectral region. The exposure of each capture was assessed using the RGB values of the Spectralon reflectance standard and the Neutral 8 gray square on the X-Rite ColorChecker Passport. The ColorChecker gray square was used because the American Institute for Conservation imaging guidelines already utilize this standard, recommending an RGB value of 200 in both visible and infrared photography.12
As with many imaging techniques, shifts in camera position or lighting between captures and uneven lighting can confound processing and undermine the usefulness of reflectance and color standards. Unlike with many other imaging techniques, suboptimal captures not only lower the quality of MBR results but can actually create misleading or erroneous images. Capture sets where one or both relative exposure values were higher in the BP660 shot were empirically found to produce erroneous results, in which some materials appeared bright or dark in ways not clearly related to each other or to known reflectance behaviors. Capture sets with the desired arrangement of exposures but larger exposure gaps produced MBR images with wider grayscale ranges, reducing the specificity of the technique. Adjusting exposures post-capture utilizes nonlinear functions and can also yield unrepresentative results.
Raman
Raman analysis of samples taken from the portraits was performed microdestructively using a benchtop Bruker Senterra Raman spectrometer equipped with a 50x microscope objective and a charge-coupled device (CCD) detector. A continuous-wave diode laser emitting at 785 nanometers was used as the excitation source, and two holographic gratings (1800 and 1200 rulings per mm) provided a spectral resolution of 3 to 5 reciprocal centimeters. The output laser power, number of scans, and integration time were adjusted based on the Raman response of the sample being analyzed.
In situ Raman analysis was conducted nondestructively using a handheld Bruker Bravo Raman spectrometer equipped with a CCD detector, featuring double laser excitation (785 nm and 852 nm) and providing a resolution of 10 to 12 reciprocal centimeters. The output laser power was approximately 50 milliwatts for both lasers, while the number of scans and integration time were adjusted based on the Raman response of the area being analyzed. Spectra were interpreted by comparison with the Metropolitan Museum of Art's library databases and with published literature.
Fiber Optics Reflectance Spectroscopy (FORS)
FORS readings were taken using an Ocean Optics FLAME-S-UV-VIS-ES spectrometer with an instrument range of 350 to 1000 nanometers, a cable range of 400 to 2100 nanometers, and a full-width, half-maximum optical resolution of approximately 1.5 nanometers. Spectra were recorded using OceanView software, and data were interpreted and plotted using Microsoft Excel. Three to five readings were taken for each color analyzed.
X-Ray Fluorescence Spectroscopy (XRF)
XRF readings were taken using a handheld Bruker Tracer III-V+ instrument with a rhodium source, a beryllium sample window roughly 3 by 4 millimeters, and a SiPIN detector. Two readings were taken at each spot: one at 40 kiloelectron volts, 3 microamps, 60 seconds, and one at 15 kiloelectron volts, 32 microamps, 60 seconds under vacuum to improve sensitivity to lower-mass elements. Spectral data were acquired and interpreted using S1PXRF and Artax software.
Paint-Out Boards
A set of reference paint-out boards was made as a guide to better understand how indigo-containing paint films respond to MBR (see fig. 7.3). The materials used to make the boards were selected based on a literature review of Romano-Egyptian painting practices, on material characterizations in the APPEAR database, and on FORS and XRF analyses of the BKM portraits. Five binding media and seven pigments in addition to indigo, all unaged, were chosen.13
Linden (Tilia americana) panels were used as the support wood. In the APPEAR database, portraits described as having an aqueous binder usually have a white groundCitation: Ground (preparation layer). A primary layer applied to a substrate to form a smooth surface on which to paint. Typically, ground layers were composed of a white material such as gypsum, although they can range in color and composition. layer, while those described as wax commonly have no ground, or sometimes a black ground. The white ground on many aqueous portraits, including figure 7.5, is thickly applied with a visible brush texture.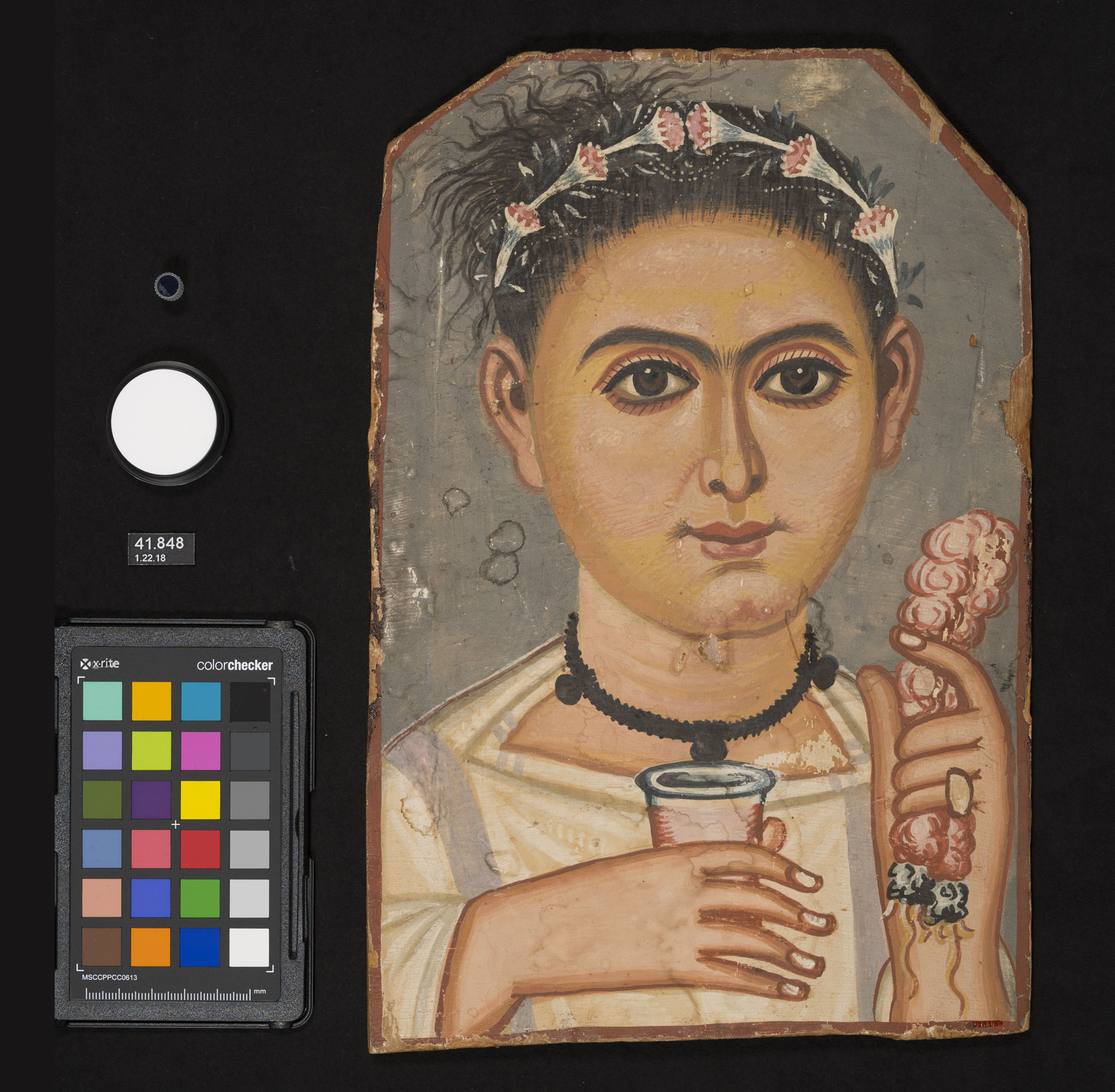 One set of panels was sized with two layers of cowhide glue followed by a partial ground layer of gypsumCitation: Gypsum (calcium sulfate dihydrate). A soft sulfate-based mineral found in nature. Often mixed with water to form plaster, it is used in the preparation of substrates, such as wood panels for painting. Also used as a white pigment, gypsum was identified in Tutankhamen's paint box. Chemical formula: CaSO4·2H2O bound in cowhide glue, applied to mimic the brush texture observed on the portraits. The other set of panels was left unprepared as a comparative control.
On each board, gradients between indigo and one other pigment were established using three aqueous binders—one cowhide glue and two rabbit-skin glues—and two beeswaxCitation: Beeswax. A natural wax produced by honeybees (Apis sp.) that is primarily composed of esters of various fatty acids and long-chain alcohols. Egyptians used beeswax for the mummification process, in cosmetics, to retain the permanency of wig curls, and to create painted portraits (encaustic). binders—one yellow and one white. The pigments include Egyptian blue, orpimentCitation: Orpiment. An orange-yellow pigment with large particles and a glittering quality used to imitate gold. Sourced from the Red Sea and Asia Minor, orpiment, mentioned by Pliny and Vitruvius and also noted in Egyptian works of the Pharaonic period, was widely traded by the Romans. Chemical formula: Arsenic trisulfide, As2S3, madderCitation: Madder. A dyestuff derived from the root of the madder plant (Rubia tinctorum), which is native to the eastern Mediterranean and Persia. Likely introduced to Egypt by the Greeks or Romans, madder was used throughout antiquity for coloring textiles and as a pigment. Chemical name: Alizarin (1,2-dihydroxyanthraquinone), Purpurin (1,2,4-trihydroxyanthraquinone), red ochreCitation: Red ochre. A brownish red earth pigment that contains anhydrous iron oxide, or hematite (from the Greek hema, meaning "blood"). Used since prehistory as pigments, ochres may vary widely in shades and transparency. Composition: Anhydrous iron (III) oxide, Fe2O3, gypsum, lead whiteCitation: Lead white. A white pigment, both found as a naturally occurring mineral known as hydrocerussite and produced synthetically by exposing metallic lead to an acid (e.g., vinegar). Lead white has been widely used in antiquity and in Egypt since around 400 BC. Chemical formula: Basic lead (II) carbonate, 2PbCO3·Pb(OH)2, and vine black. On the prepared boards, the aqueous paint-outs were applied over the gypsum ground and the wax paint-outs were applied directly on the sized wood. Each gradient step was divided into two halves. For the aqueous paint-outs, the halves comprise a single and a double layer of the same paint, while for the encaustic paint-outs, each half represents the same amount of wax combined with more or less pigment.
Indigo has a high tinting strength and was found on many of the BKM portraits in mixed pale purple hues that would have required only small amounts of colorant to create. To better represent the hues observed in the portraits, an additional pair of boards was made using minute quantities of indigo mixed with red ochre or madder.
Results
Indigo was identified on five of the six portraits in the BKM collection using FORS and Raman in combination with MBR images. On the three encaustic paintings in which it was identified, indigo was found exclusively in mixtures with a red lake pigment. On the two tempera portraits, indigo was detected more extensively throughout and in a broader range of color mixtures.
On the encaustic portraits of Demetrios and the Noblewoman (see fig. 7.1), the claviCitation: Clavus (pl. clavi). A vertical stripe or ribbonlike ornament, placed in pairs, that adorned the shoulders of a tunic. In Rome some clavi of specific width and/or color distinguished members of particular rank or status, but the significance of the clavus in an Egyptian context remains undetermined. were rendered using indigo-containing paints applied to different effects. On Demetrios, a rich, dark purple layer was applied over a lighter pink layer. On the Noblewoman, overlapping brushstrokes of purple and pink paints with varying opacities were used. Indigo was identified in the purple paints on both portraits, but not in the pinks (fig. 7.6).14 A red lake pigment, most likely madder,15 comprises the dominant pigment in the pink paint and is mixed with indigo to make the purple.