14

.

Defining a Romano-Egyptian Painting Workshop at Tebtunis
The collections of the Phoebe A. Hearst Museum of Anthropology, University of California, Berkeley, include eleven mummy portraits excavated between 1899 and 1900 from Tebtunis, Egypt.1 This group constitutes one of the largest assemblages of Roman-period mummy portraits to remain both together and unrestored since excavation; as such, it presents a rare opportunity to explore the local practices of an ancient painting workshop. The group also contains, on the back of an effaced portrait, direct evidence of painting practice: a sketch with annotations detailing how the image should be completed (fig. 14.1).2 The APPEAR project inspired the collaborative technical study of the eleven Tebtunis portraits as well as a single, additional portrait purchased from Theodor Graf for the University of California (PAHMA 5-2327; fig. 14.2), which provides a comparative example of a stylistically different portrait attributed to the site of Kerke.3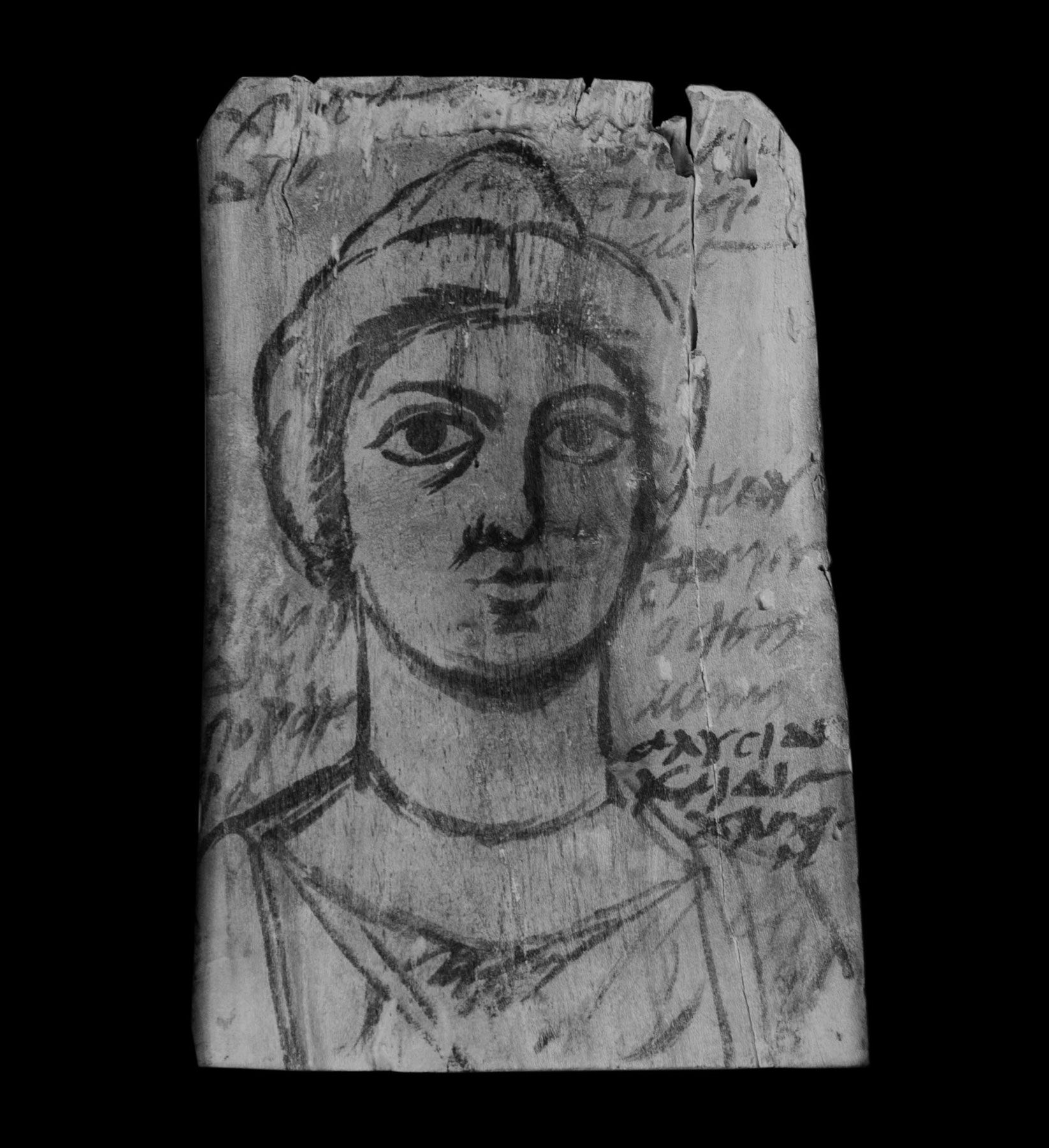 A multimodal approach based on noninvasive analytical techniques—including in situ X-ray fluorescence spectroscopyCitation: X-ray fluorescence (XRF) spectroscopy. A technique used for nondestructive elemental analyses of inorganic materials, utilizing a focused beam of X-rays to excite the atoms on the surface of an artwork and measuring the emitted energy. These emissions provide characteristic fingerprints of the elements in the sampled area, allowing researchers to formulate hypotheses about the compounds contained therein., Fourier transform infrared spectroscopyCitation: Fourier transform infrared spectroscopy (FTIR). An analytical method used for the characterization and identification of organic and some inorganic materials, based on the excitation of specific vibrational modes of functional groups in the infrared region., hyperspectral imagingCitation: Hyperspectral imaging. A scanning technique that records and processes hundreds of images of the same spatial area at a series of different wavelengths across the electromagnetic spectrum. Spectral data obtained for each pixel in the area can help detect or characterize materials present., and photometric stereo imagingCitation: Photometric stereo imaging. A computational imaging technique that separates color from shape data to generate a high-resolution composite image that estimates surface topography.—was used to compare the portraits and determine whether the use of materials and techniques across the group defines a local workshop.4 Noninvasive analyses then targeted the selection of a limited number of paint microsamples to confirm material identifications and provide information about pigmentCitation: Pigment. A colorant either derived from natural sources—mineral, plant, or insect—or produced synthetically. Typically, pigments are crushed into a fine powder and mixed with a binder, resulting in a suspension that becomes insoluble when dry; a dye produces a lake pigment when attached to an inorganic substrate or mordant. distribution within the layers.5 Wood substrates were identified via scanning electron microscopy of tiny samples from the panelsCitation: Panel. Painting support made from various woods, including lime, sycomore fig, and cedar of Lebanon, among others. The shape of the upper portion of mummy portrait panels may indicate the cemetery in which the mummy was buried: stepped panels are associated with Antinoöpolis, round-topped panels with Hawara, and angled panels with er-Rubayat..6
Distinctive features of nine of the Tebtunis portraits (PAHMA 6-21374, 6-21376, 6-21377, 6-21378a [see fig.14.1], 6-21378b [see fig. 14.3], 6-21379, 6-21381, 6-21382, and 6-21383) set them apart from the rest of the paintings currently in the APPEAR corpus. As the corpus grows, these attributes may identify related paintings in other collections. These portraits are unique in the APPEAR corpus, as they have gypsumCitation: Gypsum (calcium sulfate dihydrate). A soft sulfate-based mineral found in nature. Often mixed with water to form plaster, it is used in the preparation of substrates, such as wood panels for painting. Also used as a white pigment, gypsum was identified in Tutankhamen's paint box. Chemical formula: CaSO4·2H2O chalk white preliminary sketches on the obverse and/or Greek script on the reverse. Additionally, these nine Tebtunis portraits are on thick (1.2–1.5 cm) sycomore fig panels; thick panels and the use of sycomore fig are less common within the APPEAR corpus. Sycomore fig was used for fewer than 20 percent of the panels identified for the APPEAR project, including this group of nine.7 Finally, two pairs of portraits within this group of nine share features that are identical in both appearance and execution and are unlike any portraits outside the group. Two male subjects (PAHMA 6-21377 and 6-21378b [see fig. 14.3]) wear gilded wreathsCitation: Wreath. An assortment of flowers, leaves, fruits, twigs, or other materials constructed to resemble a loop. Typically worn on the head in ceremonial events, wreaths have much history and symbolism associated with them. In the Greco-Roman world, wreaths were used as adornments that could represent a person's occupation, rank, achievements, or status. that were painted first with an indigoCitation: Indigo. A natural blue dye derived from the plant Indigofera tinctoria and related species growing in the Mediterranean, India, and Asia, among other locations. It is believed that originally the dye woad (Isatis tinctoria), rather than indigo, was used in antiquity. Chemical formula: C16H10N2O2-based paint, and two female subjects (PAHMA 6-21381 and 6-21383) wear on their third fingers gold bands rendered in yellow ochreCitation: Yellow ochre. A naturally occurring mineral consisting of silica and clay. Its yellow color is attributed to the mineral goethite. Found throughout the world, yellow ochre has many shades and hues. Chemical formula: Iron oxyhydroxide, FeO(OH) and gold leaf.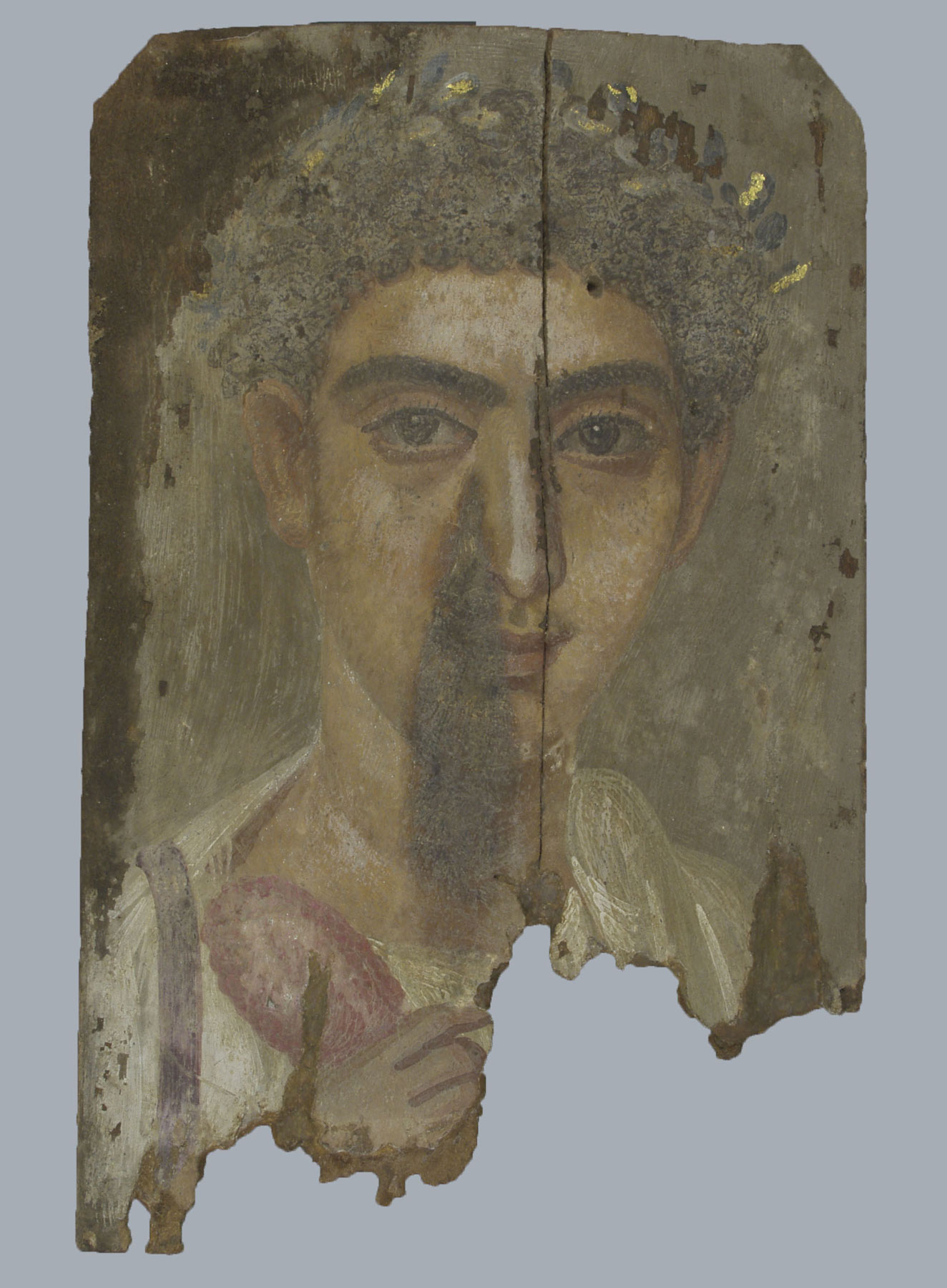 Although additional features unite these nine paintings, none are unique to the Tebtunis portraits. The paint on all eleven Tebtunis portraits has a beeswaxCitation: Beeswax. A natural wax produced by honeybees (Apis sp.) that is primarily composed of esters of various fatty acids and long-chain alcohols. Egyptians used beeswax for the mummification process, in cosmetics, to retain the permanency of wig curls, and to create painted portraits (encaustic).-based binder that was applied with brushes and metal tools. Lead whiteCitation: Lead white. A white pigment, both found as a naturally occurring mineral known as hydrocerussite and produced synthetically by exposing metallic lead to an acid (e.g., vinegar). Lead white has been widely used in antiquity and in Egypt since around 400 BC. Chemical formula: Basic lead (II) carbonate, 2PbCO3·Pb(OH)2 is a component of most colors, and nearly all tones are based on a mixture of iron earth pigmentsCitation: Earth pigments. Naturally occurring minerals that contain metal oxides, principally iron and manganese, and that have been used since prehistoric times as pigments. The primary types are ochre, sienna, and umber., including hematite, goethite, jarosite, and a manganese-rich "umberCitation: Umbers (raw and burnt umber). Natural earth pigments containing iron and manganese oxides and hydroxides. Used throughout history as earth tone pigments, umbers range in color from cream to brown, depending on the amount of iron and manganese present. Chemical formula: Iron (III) oxide, partly hydrated + manganese oxide, Fe2O3(·H2O) + MnO2·(nH2O)." Egyptian blueCitation: Egyptian blue (cuprorivaite). A pigment that was manufactured and used by Egyptians possibly as early as 3100 BC. Considered to be the first synthetic pigment, Egyptian blue was made by mixing a calcium and copper compound with silica/quartz and a flux, heating the mixture to a very high temperature (900°C), and then grinding the glassy product to a powder. Chemical formula: Calcium copper silicate, CaCuSi4O10 or CaOCuO(SiO2)4 has been identified within the APPEAR corpus in the shading and outlines of faces, the backgrounds, and in blue and blue-based colors. Among the tighter group of nine Tebtunis portraits, Egyptian blue appears only in the neutral background color.8 Blue, purple, and pink shades are all based on the organic pigments indigo and madderCitation: Madder. A dyestuff derived from the root of the madder plant (Rubia tinctorum), which is native to the eastern Mediterranean and Persia. Likely introduced to Egypt by the Greeks or Romans, madder was used throughout antiquity for coloring textiles and as a pigment. Chemical name: Alizarin (1,2-dihydroxyanthraquinone), Purpurin (1,2,4-trihydroxyanthraquinone). Certain pigments detected on other mummy portraits—namely, orpimentCitation: Orpiment. An orange-yellow pigment with large particles and a glittering quality used to imitate gold. Sourced from the Red Sea and Asia Minor, orpiment, mentioned by Pliny and Vitruvius and also noted in Egyptian works of the Pharaonic period, was widely traded by the Romans. Chemical formula: Arsenic trisulfide, As2S3, realgarCitation: Realgar. Closely related to orpiment, a red-orange pigment that was widely traded in the Roman Empire and used throughout ancient Egypt and Mesopotamia. Pararealgar is formed when realgar is exposed to light (degradation); it has the same elemental composition but different crystalline structure. Chemical formula: Arsenic sulfide, As4S4, and cinnabarCitation: Cinnabar. An orange-red pigment with excellent hiding power (opacity) and good permanence. It has been used from antiquity to the present. Chemical formula: Mercuric sulfide, HgS—were not detected on these nine images.
Marked differences between the Tebtunis portraits and the portrait purchased from Graf (PAHMA 5-2327; see fig. 14.2) show the range possible in materials among known mummy portraits.9 The Graf example is painted on a thin (0.3 mm) sycomore fig panel with an animal glueCitation: Animal glue. A collagen-based adhesive made by boiling animal skin, bones, or tendons in water. The proteinaceous glue is used as a binding medium that is mixed with pigments for painting; it can also be used for sizing or sealing wood, for applying gilding, and for joining or bonding. Glues can be made from many types of animals including cow, rabbit, horse, or fish.–based paint10 over a white, calcium sulfate foundation layer; it has no discernible underdrawing. Its palette relies even more heavily than the Tebtunis portraits on iron earth pigments. No lead white, madder, indigo, Egyptian blue, cinnabar, orpiment, or gold leaf was detected.
APPEAR project participants are finding that the portrait painters, wherever they worked, had a similar range of materials available to them. Workshop practice within the Tebtunis portraits is defined and differentiated from the rest of the APPEAR corpus not by unique materials, but by specific choices the painters made from readily accessible tools and the subtle differences in how these artists employed the materials. With the possibility not only to identify materials but also to map how and where they are used in a painting, we can begin to distinguish the practice of a workshop.
Notes
© 2020 Jane L. Williams, Marc S. Walton, and J. Paul Getty Trust
. Originally published in Mummy Portraits of Roman Egypt: Emerging Research from the APPEAR Project © 2020 J. Paul Getty Trust, www.getty.edu/publications/mummyportraits (licensed under CC BY 4.0).