16

.

Painted Roman Wood Shields from Dura-Europos
On Friday, January 18, 1935, Clark Hopkins, field director of excavation at Dura-Europos, in present-day Syria, wrote in his notes: "Just after breakfast, three painted shields were found one right a top of the other…. Herb and I spent all morning removing them. Most of the wood was strong enough to move easily and much of the painting is visible."
Now in the collection of the Yale University Art Gallery (YUAG), these three shields—dated to shortly before AD 256, when Dura-Europos was sacked by Sassanians and abandoned—were quickly recognized as rare examples of painting on wood from antiquity. They depict scenes of the Trojan War from the Iliad (fig. 16.1): the battle between the Greeks and the Amazons, and a warrior god.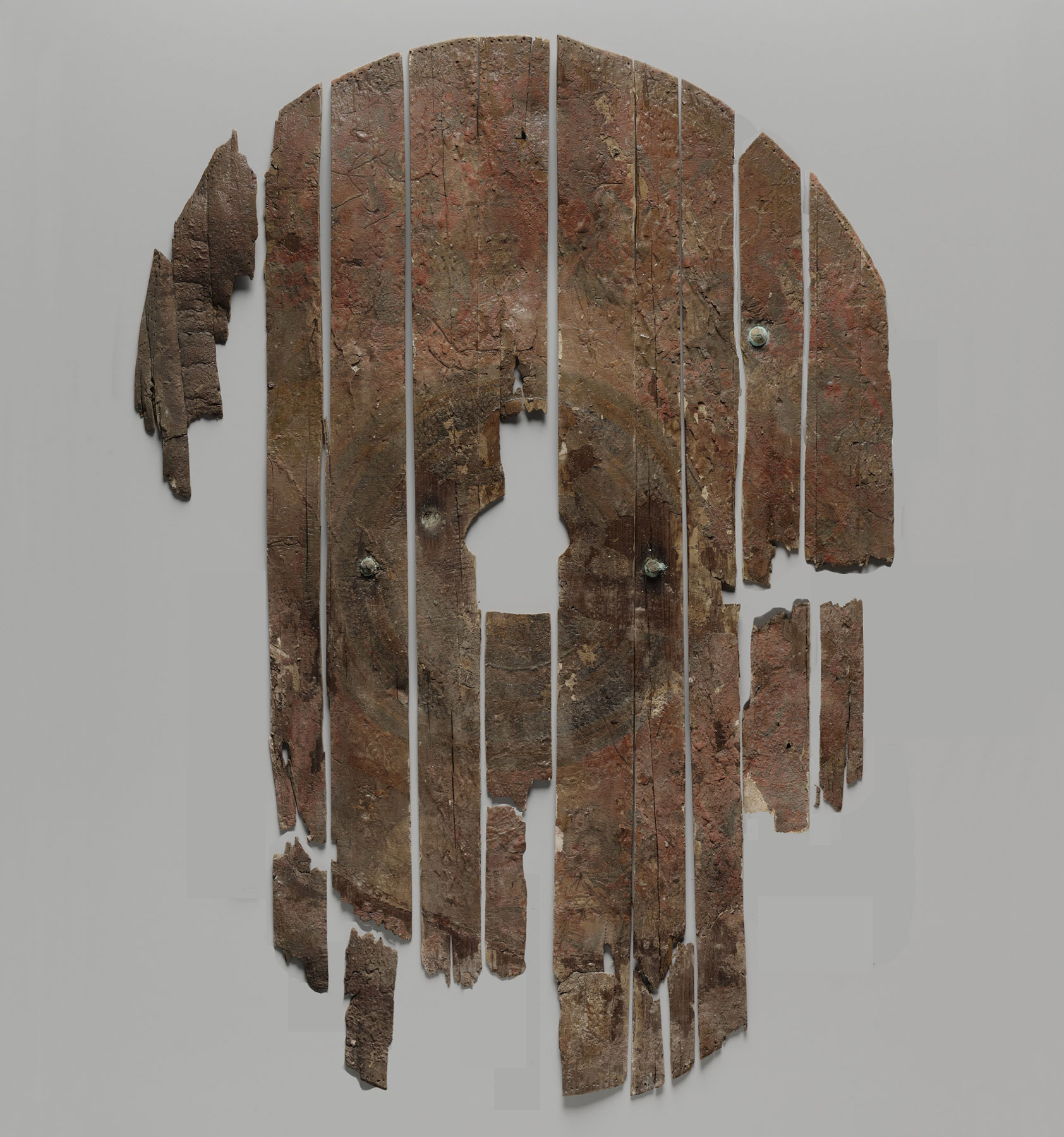 Constructed of multiple thin slats of wood joined along the long edges and painted, the oval shields—all approximately four feet high by three feet wide—were cleaned in the field after excavation and consolidatedCitation: Consolidate. To strengthen or stabilize a material by adding another impregnating material, such as an adhesive (consolidant). For example: The paint on the surface was consolidated using gelatin. with polyvinyl acetate by the expedition artist Herbert (Herb) Gute. He also painted faithful watercolor reproductions (also now in YUAG's collection; fig. 16.2) of the shields' imagery. Enthusiasm for the discovery prompted an official press release from Yale University in 1935 and publications of Gute's watercolors in the Illustrated London News in 1935 and Fortune in 1936.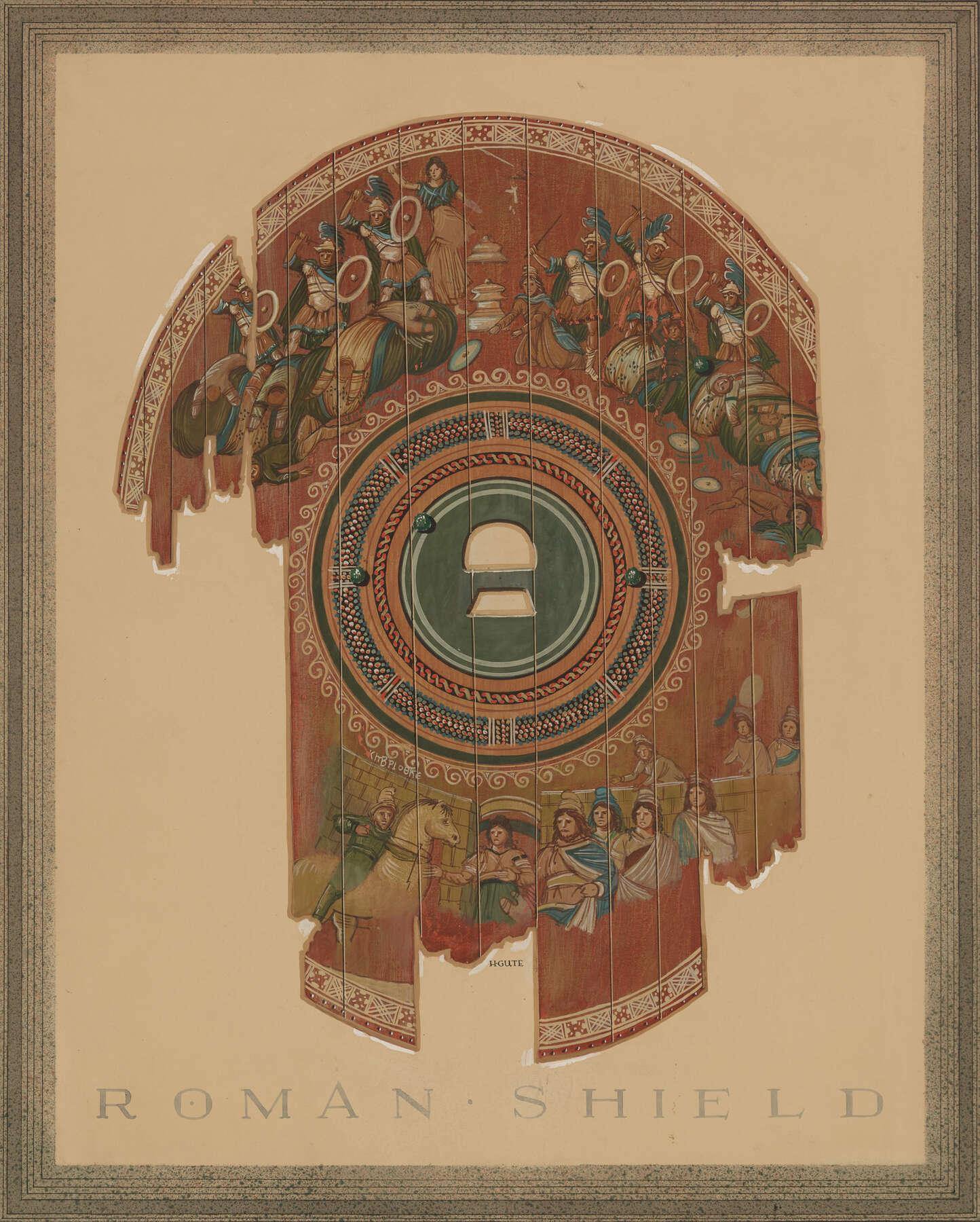 When the shields were brought to Yale University in 1935, conservator George Stout and scientist Rutherford Gettens from the Harvard University Fogg Art Museum analyzed them and produced a comprehensive report. Also at that time, Yale School of Forestry professor Samuel Record investigated the wood and identified it as pine. There was, however, little further comprehensive study or conservation treatment of the works until 2011, when the warrior god shield was conserved for display at YUAG.
The shields were fragile at the time of excavation and have only deteriorated in the eighty-five years since. The scenes are obscured by dirt and shiny, discolored polyvinyl acetate; the paint is lifting and tenting; and the wood substrate has buckled and warped. Though outliers in the APPEAR project in both place of origin and type of object, these shields serve as opportunities to examine similarities and differences in techniques and materials across regions. Since it was examined in 2011, the Trojan War shield has been the subject of an ongoing collaborative research project among conservators, conservation scientists, and curators at Yale.
Based on analysis with ultraviolet-induced visible fluorescence (UVF)Citation: Ultraviolet-induced visible fluorescence (UVF) / UV-visible fluorescence / Ultraviolet-induced visible luminescence (UVL) (historically UV/VisFL). An imaging technique and diagnostic examination method, based on characteristic responses of materials to ultraviolet (UV) radiation (185–400 nm) in the form of fluorescence, in which radiant energy in the UV region is absorbed and then reemitted as lower-energy visible light. The fluorescences revealed by the technique are used to assist in the general characterization or differentiation of materials—such as pigments, coatings, binders, and adhesives—and to diagnose the condition of an object (e.g., to detect restorations). The term luminescence also encompasses the possibility of a phosphorescent response to UV radiation in which there is a delay in the reemission of the absorbed energy by some materials, so that emission might even continue for a period after the UV excitation source is turned off. Because fluorescence is by far the dominant phenomenon being observed and documented, the term fluorescence has historically been used in describing this technique in conservation (as well as in medicine, nondestructive testing, and forensics); however, luminescence is an equally appropriate descriptor., X-ray fluorescence (XRF)Citation: X-ray fluorescence (XRF) spectroscopy. A technique used for nondestructive elemental analyses of inorganic materials, utilizing a focused beam of X-rays to excite the atoms on the surface of an artwork and measuring the emitted energy. These emissions provide characteristic fingerprints of the elements in the sampled area, allowing researchers to formulate hypotheses about the compounds contained therein., scanning electron microscopy and energy dispersive X-ray spectroscopy (SEM-EDS)Citation: Scanning electron microscopy and energy dispersive X-ray spectroscopy (SEM-EDS / SEM-EDX). An electron microscope that images the surface of a sample by scanning it with a high-energy beam of electrons. The interaction between the electrons and the constituent atoms at the sample's surface reveals topography and elemental composition., Fourier transform infrared spectroscopy (FTIR)Citation: Fourier transform infrared spectroscopy (FTIR). An analytical method used for the characterization and identification of organic and some inorganic materials, based on the excitation of specific vibrational modes of functional groups in the infrared region., and Raman spectroscopyCitation: Raman spectroscopy. An analytical technique used to observe the vibrational, rotational, and other low-frequency molecular modes of a material. When excited by monochromatic light (visible, near infrared, or near ultraviolet) from a laser beam, the collected inelastic scattered light collected with a spectrometer produces spectra that are specific to the chemical bonds and symmetry of specific molecules. Comparing reference spectral databases allows for the identification of materials., the painted surface appears to include carbon blackCitation: Carbon black. A pigment made by charring wood or other organic materials in a reducing environment (a restricted air supply). It is also known as vine black (charred, desiccated grape vines and stems) or lamp black (soot collected from oil lamps). Infrared imaging can be used to reveal artists' sketches and underdrawings made in carbon black that may not otherwise be visible beneath the painted layer, due to the pigment's tendency to absorb infrared radiation.; calcium-based whites including gypsumCitation: Gypsum (calcium sulfate dihydrate). A soft sulfate-based mineral found in nature. Often mixed with water to form plaster, it is used in the preparation of substrates, such as wood panels for painting. Also used as a white pigment, gypsum was identified in Tutankhamen's paint box. Chemical formula: CaSO4·2H2O and chalk; lead whiteCitation: Lead white. A white pigment, both found as a naturally occurring mineral known as hydrocerussite and produced synthetically by exposing metallic lead to an acid (e.g., vinegar). Lead white has been widely used in antiquity and in Egypt since around 400 BC. Chemical formula: Basic lead (II) carbonate, 2PbCO3·Pb(OH)2; orpimentCitation: Orpiment. An orange-yellow pigment with large particles and a glittering quality used to imitate gold. Sourced from the Red Sea and Asia Minor, orpiment, mentioned by Pliny and Vitruvius and also noted in Egyptian works of the Pharaonic period, was widely traded by the Romans. Chemical formula: Arsenic trisulfide, As2S3; organic red (likely rose madderCitation: Madder. A dyestuff derived from the root of the madder plant (Rubia tinctorum), which is native to the eastern Mediterranean and Persia. Likely introduced to Egypt by the Greeks or Romans, madder was used throughout antiquity for coloring textiles and as a pigment. Chemical name: Alizarin (1,2-dihydroxyanthraquinone), Purpurin (1,2,4-trihydroxyanthraquinone)); vermilion; indigoCitation: Indigo. A natural blue dye derived from the plant Indigofera tinctoria and related species growing in the Mediterranean, India, and Asia, among other locations. It is believed that originally the dye woad (Isatis tinctoria), rather than indigo, was used in antiquity. Chemical formula: C16H10N2O2; and red and yellow iron oxide pigmentsCitation: Iron oxide pigments (hematite, ochres, sienna, umber). Also referred to as earth pigments and made from minerals containing oxides and hydroxides of iron, iron oxide pigments can occur in many different colors, such as yellow, orange, red, brown, and black. Approximately sixteen known iron oxides and oxyhydroxides were widely sourced and processed (calcined) for use as pigments..
A cross section (fig. 16.3) was taken from the edge of a plank and analyzed with FTIR, Raman spectroscopy, and SEM-EDS. The results are as follows:
4 – A thin reddish preparatory layer, composed of vermilion, small quantities of lead white, and rose madder on a gypsum substrate, in a matrix of aluminosilicates; likely rose madder, based on strong orange UVF.
3 – Pink layer, containing an organic red dye precipitated on a gypsum substrate, in a matrix of aluminosilicates.
2 – S-twist bast fiber, possibly flaxCitation: Linen (flax). A textile derived from the flax fiber, commonly used in but not originally native to Egypt, dating back to the Neolithic period (about 4000 BC). Two types of flax were cultivated in predynastic Egypt: Linum bienne (synonym Linum angustifolium) and Linum usitatissimum. To produce linen thread, flax was dried, retted (soaked), beaten to separate the bast fibers from the stems, spliced, and spun. Although rarely done, linen thread could then be dyed (using ochre or organic colorants) before being woven into cloth. Women, men, and children were involved in linen production, but weaving is most closely associated with women. Linen cloth was very valuable and sometimes used as currency. Egyptian mummies were wrapped in linen because it symbolized wealth, light, and purity..
1 – A groundCitation: Ground (preparation layer). A primary layer applied to a substrate to form a smooth surface on which to paint. Typically, ground layers were composed of a white material such as gypsum, although they can range in color and composition. layer of white calcium carbonateCitation: Calcium carbonate (chalk, lime, calcite). A chemical compound used to create a stable white pigment with limited hiding power (opacity); this pigment is used to make grounds (preparation layers) for painting. Chemical formula: CaCO3, likely chalk, in a matrix of aluminosilicates with S-twist bast fibers mixed in.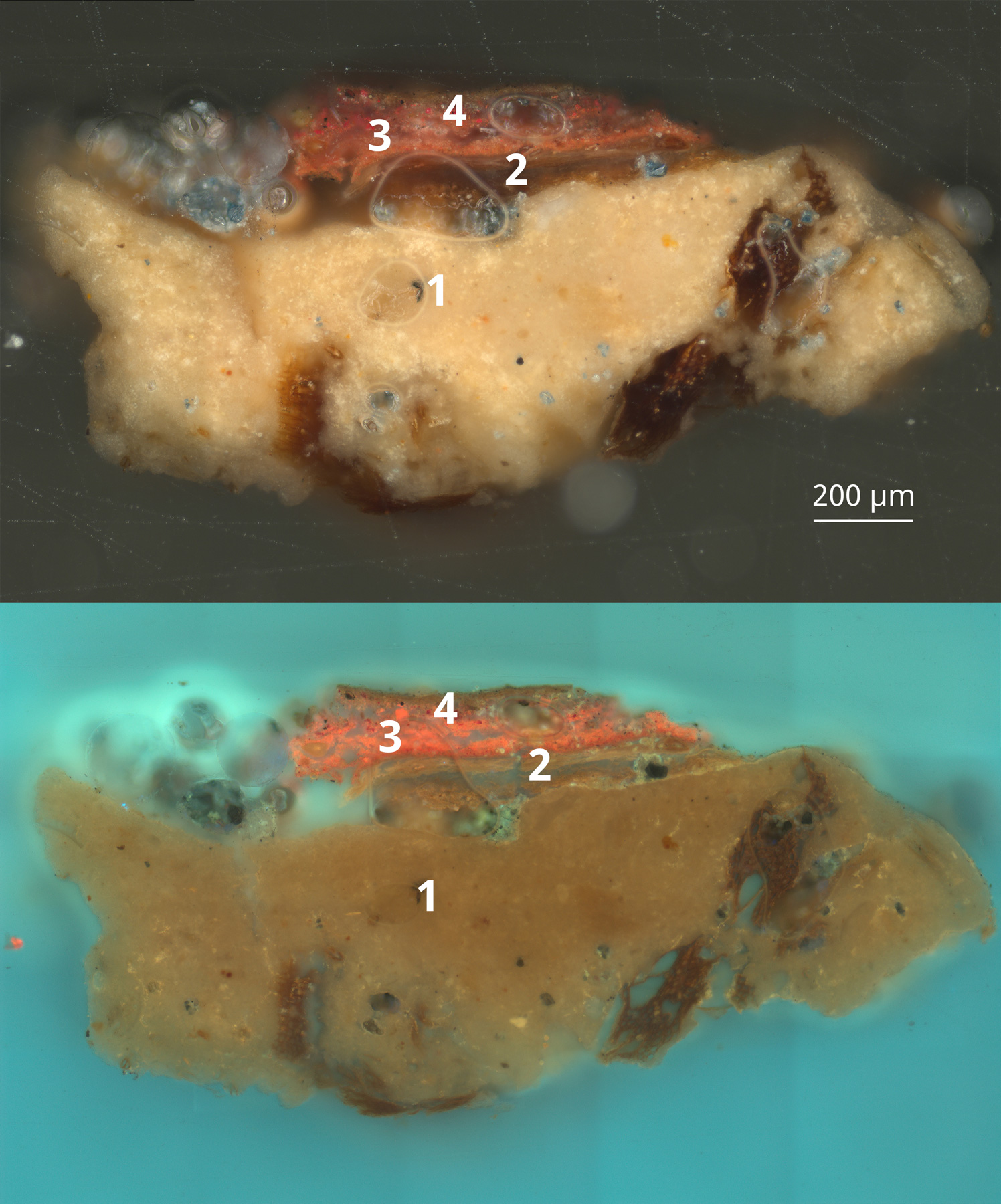 Of particular interest to our study is the identification of the paint's binding mediaCitation: Binding media. Organic materials that hold pigments together, enabling them to be applied as a cohesive film. Ancient binding media are based on natural materials, including wax, plant gums, and proteins, such as animal glues. The physical properties of the medium strongly influence the handling and visual characteristics of the paint.. Visual analysis of the uppermost painted surface indicates the application of temperaCitation: Tempera. In the context of ancient art, this term generally refers to a fast-drying, water-miscible painting medium such as animal glue or plant gum. The term tempera originates from the Latin temperare ("combining, blending"). paint. Gettens and Stout analyzed flakes of the paint film in a microchemical study. Although they did not arrive at a definite conclusion, they observed the presence of nitrogen and phosphorous, indicating an organic medium of either egg or casein; they were inclined to believe that the substance was casein.
In our study, surface scrapings of paint layers and residual glue on the edge of the wood slats were analyzed with FTIR and gas chromatography/mass spectrometry (GC/MS)Citation: Gas chromatography/mass spectrometry (GC/MS). An analytical technique used for the precise identification of organic binding materials such as oils, waxes, resins, and gums. The gas chromatograph separates complex mixtures of organic compounds using a capillary column housed in a temperature-controlled oven and, in combination with the mass spectrometer, can facilitate identification and quantitation of the various components.. FTIR detected proteins in the glue sample, which indicates that animal glueCitation: Animal glue. A collagen-based adhesive made by boiling animal skin, bones, or tendons in water. The proteinaceous glue is used as a binding medium that is mixed with pigments for painting; it can also be used for sizing or sealing wood, for applying gilding, and for joining or bonding. Glues can be made from many types of animals including cow, rabbit, horse, or fish. was used to join the slats; however, both FTIR and GC/MS identified wax as the binding medium of the paint layers. Proteins were not detected in the paint samples.
Dr. Brandon Gassaway of the Rinehart Lab in the Department of Cellular & Molecular Physiology and the Systems Biology Institute at Yale analyzed surface scrapings of paint layers and glue from the edge of wood slats with mass spectrometry–based proteomics. In both samples, casein, β-lactoglobulin, and serum albumin were found, attesting to the presence of bovine milk.
Joy Mazurek at the Getty Conservation Institute also studied GC/MS scrapings of a blue paint layer and red preparation layer. Proteins, likely animal glue, as well as degraded beeswaxCitation: Beeswax. A natural wax produced by honeybees (Apis sp.) that is primarily composed of esters of various fatty acids and long-chain alcohols. Egyptians used beeswax for the mummification process, in cosmetics, to retain the permanency of wig curls, and to create painted portraits (encaustic). were identified. Mazurek (see this volume) believes this finding suggests that animal glue was used in the preparation layer, and that the paint layer includes a beeswax binding medium.
Cleaning and stabilization of the shields has been a priority in our project. Treatment has focused on removing surface dirt and the polyvinyl acetate, which has been reduced with 1:1 acetone and ethanol, as well as consolidating lifting paint.
Acknowledgments
Some of the analysis using SEM-EDS was carried out by Anikó Bezur, Wallace S. Wilson Director of Scientific Research, Technical Studies Laboratory, at Yale's Institute for the Preservation of Cultural Heritage. We thank Carol Snow, deputy chief conservator and Alan J. Dworsky Senior Conservator of Objects, YUAG; Ian McClure, Susan Morse Hilles Chief Conservator, YUAG; Debora Mayer, head of the paper conservation laboratory at the Weissman Preservation Center, Harvard Library, Harvard University; Brandon Gassaway and Jesse Rinehart of the Rinehart Lab in the Yale Systems Biology Institute; and Joy Mazurek, assistant scientist at the Getty Conservation Institute.
© 2020 Anne Gunnison, Irma Passeri, Erin Mysak, and Lisa Brody
. Originally published in Mummy Portraits of Roman Egypt: Emerging Research from the APPEAR Project © 2020 J. Paul Getty Trust, www.getty.edu/publications/mummyportraits (licensed under CC BY 4.0).