17

.

Characterization of Binding Media in Romano-Egyptian Funerary Portraits
Introduction
The identification of binding mediaCitation: Binding media. Organic materials that hold pigments together, enabling them to be applied as a cohesive film. Ancient binding media are based on natural materials, including wax, plant gums, and proteins, such as animal glues. The physical properties of the medium strongly influence the handling and visual characteristics of the paint. in funerary portraits is inherently complicated due to various factors such as restoration history, microbial deterioration, and environmental conditions (which are not always known). Gas chromatography/mass spectrometry (GC/MS)Citation: Gas chromatography/mass spectrometry (GC/MS). An analytical technique used for the precise identification of organic binding materials such as oils, waxes, resins, and gums. The gas chromatograph separates complex mixtures of organic compounds using a capillary column housed in a temperature-controlled oven and, in combination with the mass spectrometer, can facilitate identification and quantitation of the various components. protocols were developed to identify waxes, oils, fatty acids, and proteins in forty-seven Romano-Egyptian funerary portraits. Analytical protocols utilized three separate derivatization techniques. The first analysis identified free fatty acids, wax esters, and fatty acid soaps; the second, oils and plant resinCitation: Plant resin. A water-insoluble exudate obtained from one of several plants, particularly coniferous trees such as pine, cedar, or fir. Composed of chemical compounds known as terpenes, plant resins are used for the production of varnishes and adhesives and for mummification processes. Many resins have an aromatic quality that also acts as a preservative (biocide).; and the third, proteins. The identification of plant gumCitation: Gum. A water-soluble, polysaccharide exudate obtained from various woody plants or other natural sources and used as a binder for pigments. Gum arabic was the most commonly used plant binder in antiquity. required a separate paint sample. Figure 17.1 shows the museums that participated in this study, the number of portraits tested, and the types of binding media identified. What follows is a brief summary of the binding media survey; further information—including GC/MS analytical data, protocol details, painting technique, and sample locations—is the subject of another article.1
Tempera
TemperaCitation: Tempera. In the context of ancient art, this term generally refers to a fast-drying, water-miscible painting medium such as animal glue or plant gum. The term tempera originates from the Latin temperare ("combining, blending"). portraits were tested by GC/MS amino acid analysis, as this method allowed for the identification of proteinaceous binding media. The portraits' samples were compared with common media, such as egg, animal glueCitation: Animal glue. A collagen-based adhesive made by boiling animal skin, bones, or tendons in water. The proteinaceous glue is used as a binding medium that is mixed with pigments for painting; it can also be used for sizing or sealing wood, for applying gilding, and for joining or bonding. Glues can be made from many types of animals including cow, rabbit, horse, or fish., and casein. Results show that animal glue was the preferred tempera paint, as attested by a glue tempera portrait from the Petrie Museum (UC 14768; fig. 17.2a). The amino acids detected matched colllagen, the protein that makes up animal glue (fig. 17.2b). An earlier publication identified egg tempera in paint from UC 14768; however, this result was inaccurate due to interpretation error. It was based on fatty acids that are used to identify lipids and drying oils.2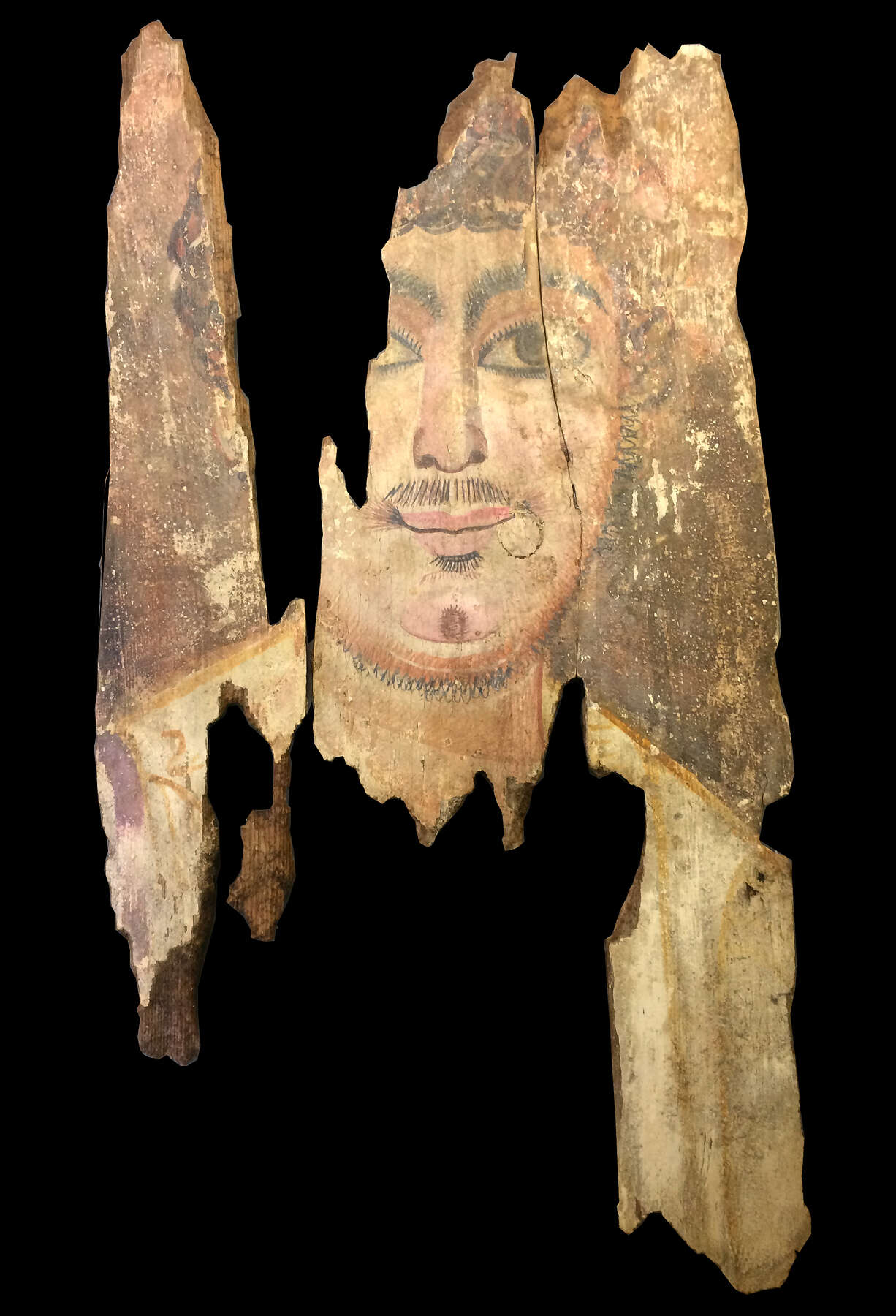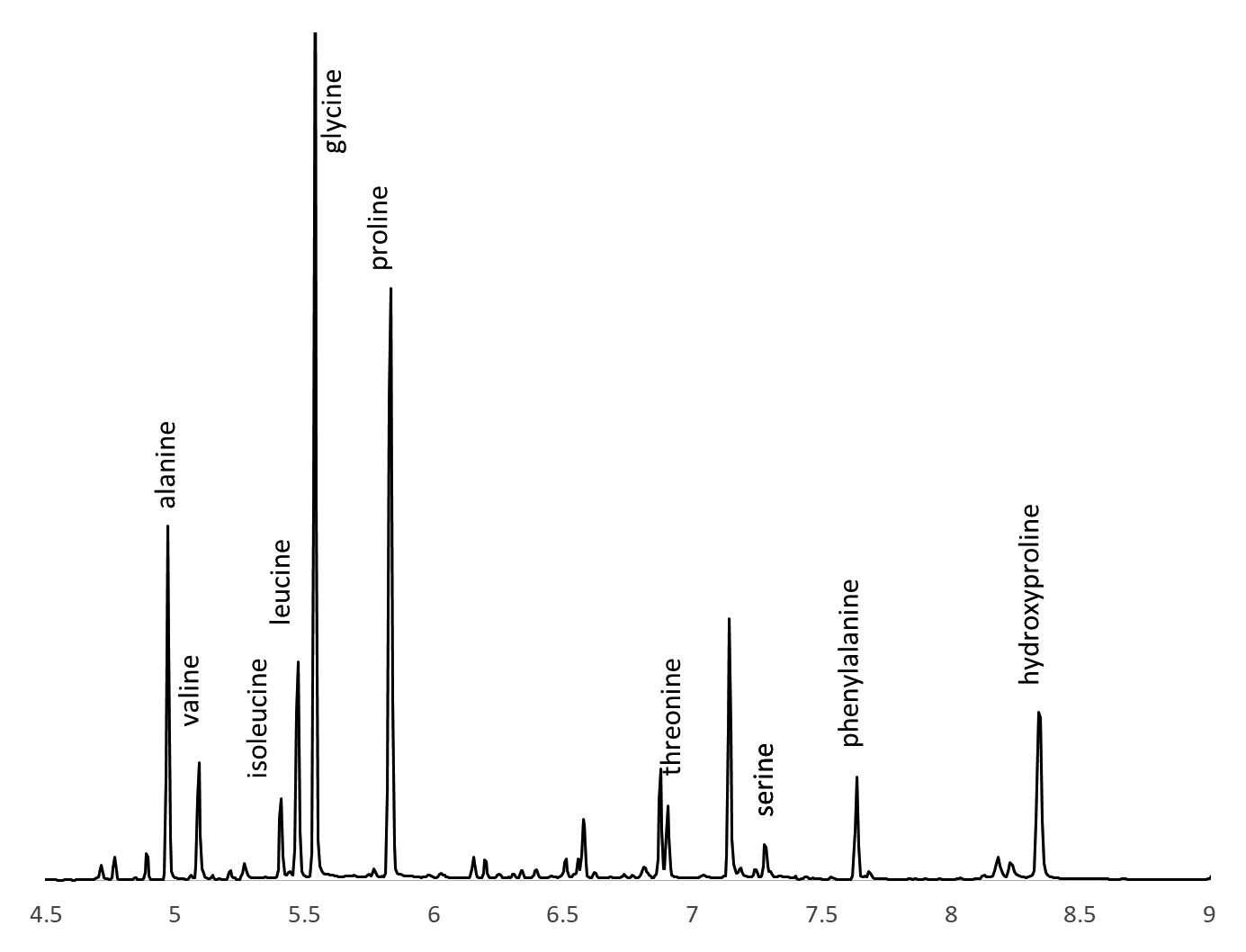 Enzyme-linked immunosorbent assay (ELISA)Citation: ELISA (enzyme-linked immunosorbent assay). An analytical technique that employs antibodies to identify proteins in binding media such as animal glue, egg, and milk, as well as polysaccharides in plant gums. ELISA can also characterize the biological source of the protein (e.g., rabbit-skin glue vs. fish glue). detected egg on the surface of four panelCitation: Panel. Painting support made from various woods, including lime, sycomore fig, and cedar of Lebanon, among others. The shape of the upper portion of mummy portrait panels may indicate the cemetery in which the mummy was buried: stepped panels are associated with Antinoöpolis, round-topped panels with Hawara, and angled panels with er-Rubayat. portraits from the Getty Museum (JPGM 74.AP.20–22, 91.AP.6). Egg coatings were also detected by GC/MS amino acid analysis on the surface of two portraits from the Ny Carlsberg Glyptotek.3 Future proteomic studies may help to determine the type of bird used to manufacture the egg coatings. Recently, cow skin (Bos taurus) was identified in JPGM 74.AP.20 with mass spectrometry, or peptide mass profiling, by comparing a sample from the portrait with different species of collagen.4
Plant gum was identified in the black groundCitation: Ground (preparation layer). A primary layer applied to a substrate to form a smooth surface on which to paint. Typically, ground layers were composed of a white material such as gypsum, although they can range in color and composition. from a beeswaxCitation: Beeswax. A natural wax produced by honeybees (Apis sp.) that is primarily composed of esters of various fatty acids and long-chain alcohols. Egyptians used beeswax for the mummification process, in cosmetics, to retain the permanency of wig curls, and to create painted portraits (encaustic). mummy portrait (JPGM 79.AP.141), based on carbohydrate analysis. Animal glue was identified in the black ground of a similar encausticCitation: Encaustic. A wax-based painting technique. From the Greek word enkaustikos ("burned in"), the term in its most literal sense refers to the use of molten beeswax combined with pigments; once solidified, the paint can be further manipulated by the use of heated tools. The term is often used in a more general sense to describe any painting technique in which wax is the major component of the medium. portrait from the Ashmolean (AN 1888.342). Acacia sp. gum was identified in a gray paint sample from a glue-and-gum-tempera mummy portrait (JPGM 79.AP.142).
Encaustic
Thirty-two encaustic portraits were identified as beeswax portraits; they were analyzed for fatty acids, hydrocarbons, and wax esters by GC/MS. The investigation showed similar beeswax profiles for the majority of portraits, with considerable amounts of palmitic acid (C16)—likely present as palmitic acid lead soapCitation: Lead soaps. Products created by the saponification of an oil (such as a drying oil, which hardens due to oxidation) promoted by a lead-based pigment, such as lead oxide. The soaps formed by interaction between fatty acids in the oil and lead ions from the pigment can manifest as insoluble white aggregates within the paint layer or as a white haze (efflorescence) on the surface.—reduced alkanes (hydrocarbons), and decreased wax esters as compared with fresh beeswax. Results show that paint from the dark background of a beeswax mummy portrait (UC 19610; fig. 17.3a) had altered chemically, when compared with fresh beeswax (fig. 17.3b). The wax esters and alkanes had decreased substantially, while palmitic acid (C16) had increased.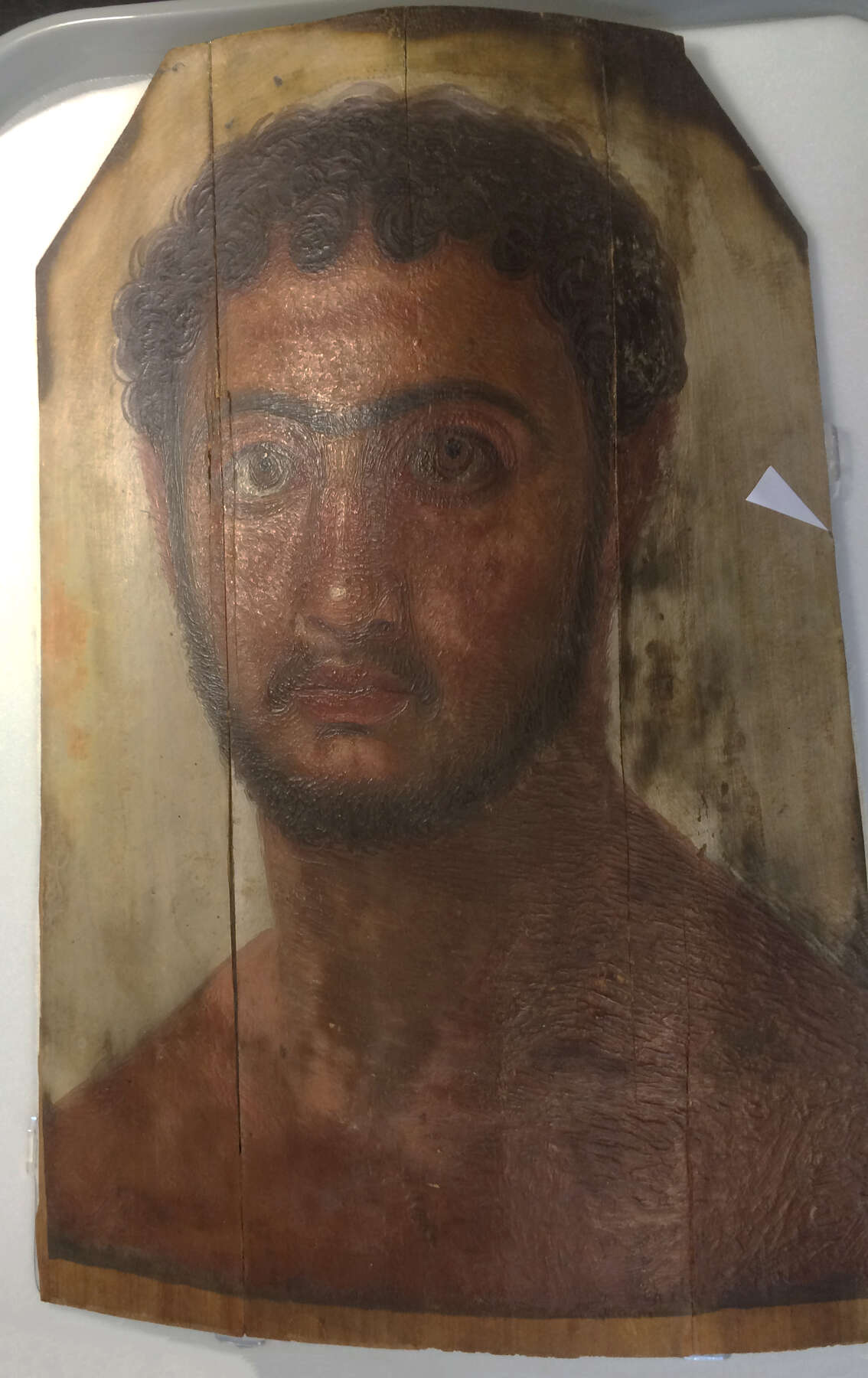 Beeswax was likely applied melted, and little is known about the intentional modification by the artist in order to apply it while cold; this formulation is also called Punic, or emulsified, waxCitation: Punic wax. Beeswax prepared in a certain way, as described by both Pliny and Dioscorides. The precise nature and composition of Punic wax have been much debated, with the source texts variously interpreted as describing the preparation of a purified or clarified beeswax, or one that has been partially or completely saponified by the addition of an alkali. In the latter case the product is presumed by some to be water miscible and amenable to application in a cold state..5 Previous publications have described intentionally modified waxCitation: Modified wax. Beeswax that has been modified by the addition of other materials, such a resin, glue, or oil, or that has been treated with an alkali to make it water soluble, thus paintable cold. Some scholars have proposed that wax was modified in some way for use as a paint medium in ancient Egypt. based on changes in chemistry—for example, low relative amounts of fatty acids, decreased alkanes and wax esters, and the presence of metal soaps.6 An early paper identified a modified wax, or "Punic wax," in a beeswax mummy portrait (UC 19612), based on brushstrokes and decreased wax esters and alkanes.7
GC/MS analysis of UC 19612 shows that it was similar to most portraits tested; it had significant amounts of palmitic acid (as lead soap) and a decreased occurrence of wax esters and alkanes. The decreased content of wax esters (in comparison with fresh beeswax) does not necessarily mean it was intentionally modified, as similar wax profiles were observed in most portraits tested. Future research may shed light on the chemistry behind the decrease in wax esters and the subsequent reaction between palmitic acid and lead pigmentCitation: Pigment. A colorant either derived from natural sources—mineral, plant, or insect—or produced synthetically. Typically, pigments are crushed into a fine powder and mixed with a binder, resulting in a suspension that becomes insoluble when dry; a dye produces a lake pigment when attached to an inorganic substrate or mordant..
Oil Identification
GC/MS fatty acid analysis identified oil in twenty-one beeswax portraits (two on linenCitation: Linen (flax). A textile derived from the flax fiber, commonly used in but not originally native to Egypt, dating back to the Neolithic period (about 4000 BC). Two types of flax were cultivated in predynastic Egypt: Linum bienne (synonym Linum angustifolium) and Linum usitatissimum. To produce linen thread, flax was dried, retted (soaked), beaten to separate the bast fibers from the stems, spliced, and spun. Although rarely done, linen thread could then be dyed (using ochre or organic colorants) before being woven into cloth. Women, men, and children were involved in linen production, but weaving is most closely associated with women. Linen cloth was very valuable and sometimes used as currency. Egyptian mummies were wrapped in linen because it symbolized wealth, light, and purity.) and one glue tempera portrait on linen (JPGM 75.AP.87; fig. 17.4a). Considered biomarkers for an oxidized oil, dicarboxylic fatty acids in paint are more likely to form in dry and arid climates. Figure 17.4b shows a chromatogram of JPGM 75.AP.87; it contains dicarboxylic fatty acids, indicating the presence of an oxidized oil. Brassicaceae (mustard, crucifers, and cabbage family) seed oil has been positively identified in Egyptian artifacts, based on similar dicarboxylic fatty acids.8 Further research and corroborative findings will help determine if these oils were intentionally added.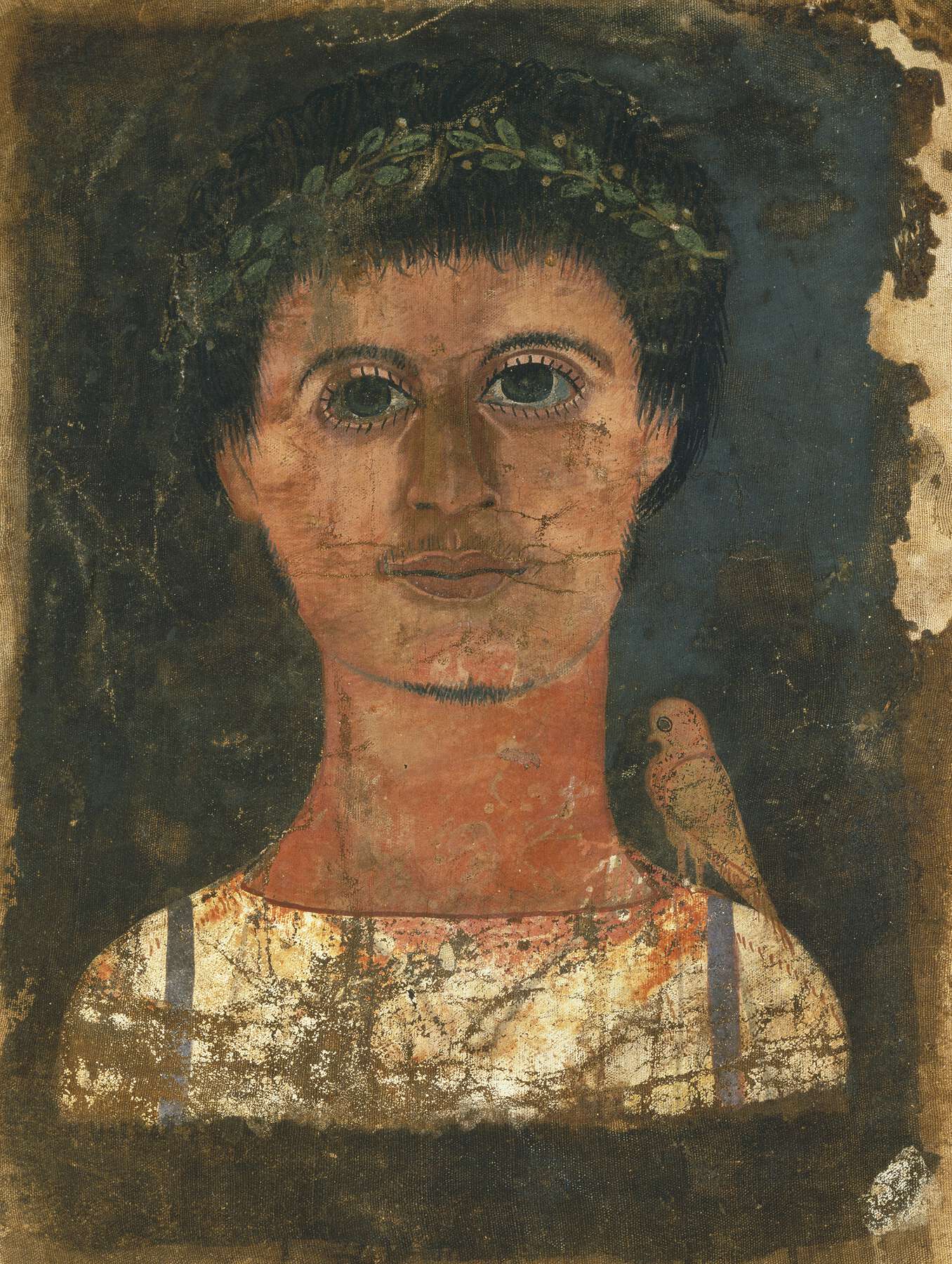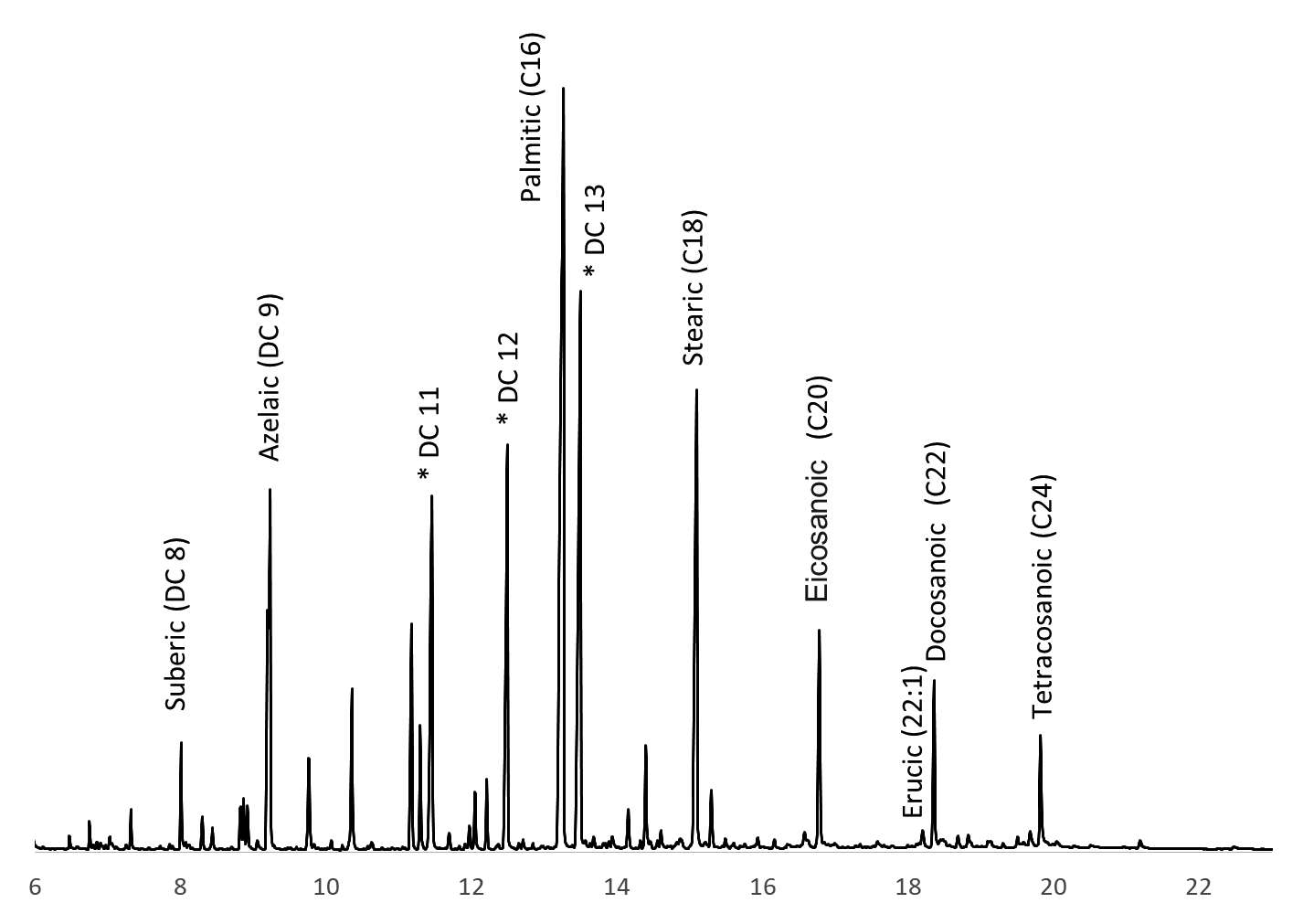 Conclusions
The GC/MS protocols were capable of identifying beeswax, fatty acids, soaps, oils, and proteins in one paint sample. Analysis of beeswax from mummy portraits showed a decrease in wax esters and hydrocarbons, while palmitic acid intensified—most likely present as fatty-acid lead soap. Animal glue was identified as the preferred medium in tempera portraits. Egg coatings were detected on two beeswax mummy portraits and three glue tempera panel portraits. Twenty-one beeswax portraits contained oxidation products of an unknown oil, based on the presence of dicarboxylic fatty acids. Future research may enable a better understanding of possible connections between the portraits' provenanceCitation: Provenance. The ownership history of an artifact. and restoration history.
Notes
© 2020 J. Paul Getty Trust
. Originally published in Mummy Portraits of Roman Egypt: Emerging Research from the APPEAR Project © 2020 J. Paul Getty Trust, www.getty.edu/publications/mummyportraits (licensed under CC BY 4.0).